phile under: leisure studies
Date Night
Sightseeing, sushi, and cinema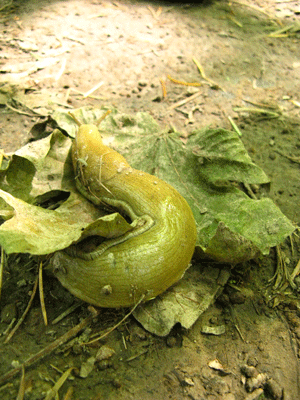 With apologies to Steve Carell and Tina Fey, we're rolling out our recurring blog feature (which could show up in any blog at any time) called Date Night. Our hopelessly romantic staffers have pooled their knowledge to come up with a choice assortment of low-cost cultural itineraries that should make for a very memorable night on the town.
"Can you tell us how to get to Forest Park?" "You mean Washington Park?" "Um, no… Forest Park."
For some yet-to-be-determined reason, many Portlanders remain blissfully unaware of the existence of Forest Park. How one fails to notice a 5,000+-acre patch of land in the middle of the greenest city on Earth is anyone's guess, but the guy who pumped our gas at a station around PGE Park was one of these people. My boyfriend and I may not have known exactly how to get to Forest Park, but at least we knew it existed.


Following the clueless pump jockey's directions to Washington Park, or "those trees over there," only got us lost. Naturally. After winding up in Sylvan and hopping onto Highway 26, we decided to trust our own intuitions: we headed over to NW and followed some bike signs, eventually winding our way up to the end of NW Thurman St, where Leif Erikson Drive begins. In case you weren't aware (I wasn't), Leif Erikson Drive is a blocked off section of road that winds through Forest Park and includes about a dozen trailheads.
After about a third of a mile on the partially paved road, I decided that Leif Erikson Drive wasn't really "hiking," so at the first opportunity (Wild Cherry Trail), we diverged from civilization. My only complaint about Forest Park lies in the fact that it really is just a little too much "park." On level of fun alone, I find just about every trail in the Gorge far superior. But driving out to the Gorge takes time and money, so on a budget, Forest Park will do. Which is probably what all the other people on the trail, mostly joggers, tripping hippies, and dog walkers, thought too.
Regardless, my boyfriend and I seemed to catch the Wild Cherry Trail at the perfect time (about 3 pm): the lighting was wonderfull and the heat was manageable. The trail itself is about two miles total, in and out, which is perfect for a short afternoon hike. To top it all off, we made a couple of animal friends: a fatty little banana slug and a neurotic millipede.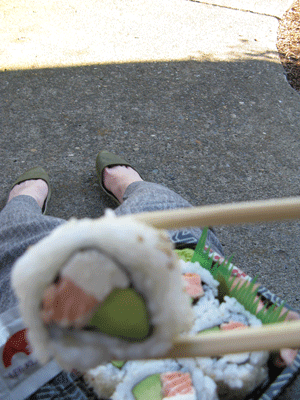 Post-hike, the boyfriend and I headed downtown for some grub. With our minds set on food carts, we parked at SW Third and Stark and perused the area, which, as usual, is stocked mostly with Thai and Mexican options. Another burrito? Groan!
A little off the beaten path, however, we found PFE Sushi on Stark between Second and Third, cozying right up next to Mother's Bistro. I was hesitant at first (raw fish from a street cart? Can anyone say food poisoning? Hmm), but after swallowing my anxiety, it turned out to be some of the best sushi I have ever had in my life—and I'm from Hawaii, so that's really saying something. I mean, I'm drooling right now at the thought of it. So. Good. I ordered the Kung Pao Chicken Steamed Rice Bento Bowl ($3.99), which my boyfriend and I split, and he ordered two 8pc rolls of sushi, which we also split ($4.99 each). Everything was made-to-order with the freshest ingredients by a friendly, slightly hard to understand Japanese man. By far the best of what we ordered, though it was all excellent, was the Alaskan Roll: cream cheese, avocado, and ever so lightly cooked salmon Uramaki-style ("inside-out roll"), seasoned with some sort of Furikake I have never seen before, which was beyond amazing.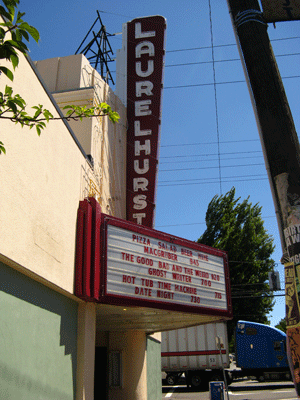 To round out our Date Night, it was only right that we catch a movie at the Laurelhurst Theater. The movie selection is sometimes iffy, but tickets are only $3—so even if the movie sucks, at least you didn't spend $20 dollars to find out. The 7 pm showing of The Ghost Writer was packed with dinnertime patrons who decided to kill two birds with one stone: grabbing a slice of pizza and a pint ($2.75-3.50 and $4.75, respectively). Having already had our fill of fishy deliciousness, my boyfriend and I decided to forgo the Laurelhurst and settled in to watch the movie: a Roman Polanski film about a man (Ewan McGregor) hired as ghost writer for an ex-Prime Minister (Pierce Brosnan), who discovers a mystery that absolutely must be solved. Cue semi-suspenseful plot devices. The boyfriend loved it, I thought it was mediocre. For $3, it wasn't bad. Now if the Laurelhurst would just install a sushi bar…