Passing Through
Splendor Bender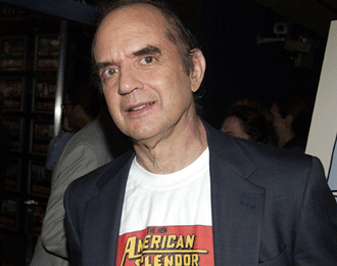 Harvey Pekar is in top form: agitated. It has been put to him that when sports fans renew their optimism for the local team—in Pekar's case, any team from Cleveland—despite that team's consistently losing ways, it creates an almost exquisite melancholy, a vital component of the poetic soul.
He's heard enough. "Listen, you go to Cleveland and try to be a poet," he snarls. "And let me know how you make out.
"What kind of article are you writing anyway?" Pekar demands. "This just sounds like a bunch of random, stream-of-consciousness bullshit."

For the author of the painfully autobiographical comic book American Splendor, such outbursts have spewed continuously since 1976, when Pekar's friend, cartoonist R. Crumb, agreed to provide illustrations for his observations on life as a harried file clerk (37 years in all) in a Cleveland VA hospital. In the '80s, Pekar was a frequent guest of David Letterman until he was bounced off the old Late Night show for griping about the corporate practices of General Electric, which happened to own NBC, then Letterman's network. Even three years ago, when his comic-book life story was turned into a highly acclaimed movie (also called American Splendor, and nominated for a Best Adapted Screenplay Oscar in 2004) that starred Paul Giamatti and Hope Davis, he seemed flummoxed by the fame that came with the film.
Pekar, 66, holding court in the lobby of the Heathman Hotel shortly before his Portland Arts & Lectures engagement at First Congregational Church, does admit he's enjoying the amenities of his room at the Heathman—but he has detected a problem. "There's a whole shopping bag fulla books up there for me to sign!" he moans. "Like 40 books!" Pekar's mood improves when his assistant tells him the books have been paid for.
It's one of the few subjects with the power to appease (temporarily) the obstreperous cancer survivor (his original diagnosis served as the basis for the graphic novel Our Cancer Year). Pekar still frets about whether he's making enough money to support his family and whether or not he'll have to hustle additional freelance writing gigs, even though he has contracts with Ballantine Books and DC Comics.
"I'm getting more respect, and it surprises the hell out of me," says Pekar about his life since the movie release. "I think maybe I'm not capable of realizing what's happening to me." Which is probably a good thing, since Pekar's best work revolves around his unpretentious rendering of mundane happenings, like getting a new tire for his car, or shooting the breeze with his co-workers.
"I distance myself to maintain my sanity," he continues. "My friends are all gone; I just sit around all day and write or lie in bed and listen to NPR and stuff. And I go out on these damn tours … and try to get along with the world!"
For the record, Portland is one place Pekar seems to tolerate relatively well. His ties to the area include an admiration for the Trail Blazer championship team of 1977; a business relationship with Milwaukie's Dark Horse Comics, which published American Splendor for a time in the '90s; and an artistic link to graphic novelist/cartoon journalist Joe Sacco, who is one of his many collaborators. "I like Portland," Pekar says, with characteristic understatement. "It's a clean, well-lighted city."
The forecast is less sanguine when it comes to his hometown. "I'm no hero in Cleveland," he says gruffly.
And why is that? Pekar shakes his head. "There's a lot to be unhappy about in Cleveland," he concludes.
Sounds like a bottomless well for American Splendor.