phile under: art show
Art Show Tonight at Jupiter Hotel
Siren Nation's Paint Your Art Out auctions modern twee-folk pieces by local art stars.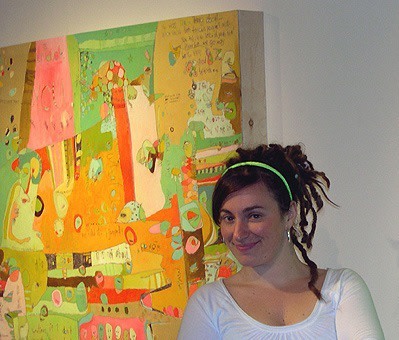 Not already captivated by meteors or Mars? In that case, head for the Jupiter Hotel (SE 8th & Burnside), for Siren Nation's 30-artist extravaganza. Brett Superstar (whose Blue Rabbit Suitcase is pictured left) and recent Oregon Art Beat featuree Jennifer Mercede (right), will be on-site painting live.
Showing artists include:
• Carson Ellis • Lori D • Amy Ruppel • Alyson Provax • Angela Gay • Elissa Tree • Erin Nations • Christina Eichelberger • Jennifer Finn • Nicole Linde • Justine Avera • Debra Galaty • Sienna Morris • Julia Swaney • Katie Evans • Cassie Ridgeway • Sarah Hulin • Collen McIntyre
…and zine-scene sweetheart Nicole Georges!

For a more comprehensive list of upcoming events, visit the Arts & Entertainment Calendar!