phile under: five questions
5 Questions with Allen Nause
Artistic Director of Artists Rep talks shop about Long Day's Journey Into Night.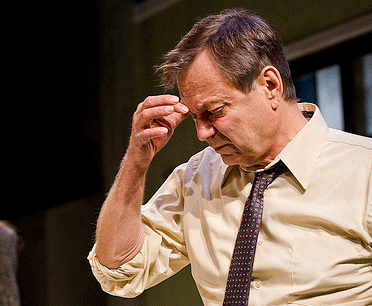 Haven't you heard? Artists Repertory Theater is about to host Long Day's Journey Into Night, starring Oscar-winner William Hurt. On the eve of the big Portland debut, Culturephile eeked five answers out of understandably preoccupied Artistic Director Allen Nause, who, as it happens, has a long history with Mr. Hurt.
I heard you sort of "came up" with William Hurt in Ashland. How is it working with him again? What's the same, and what's new?
William and I were young, idealistic actors who were new to the Oregon Shakespeare Festival in the summer of 1975. We didn't act much together that summer (except to carry spears in Romeo and Juliet) but we did share a dressing room, where we got to talk a lot about our artistic goals and ideals. We definitely shared a love and respect for the art of acting. When we reconnected and got to work together 30 years later, it was amazing to discover that we'd both retained those ideals. The thing that impresses me most about William's work is his relentless, unswerving dedication to the process, and his continuous search for excellence and truth!

When you curate an Artists' Rep season, I imagine you have a list of essential elements that you want to include. What are those, and which of them are covered by this play? (Or to put it another way, how does this play fit into the season as a whole?)
Our mission at Artists Rep is to do challenging plays that are either premieres to Portland, or classics that still speak to us today, that we can give a fresh interpretation. Long Day's Journey Into Night certainly fills both bills, as a classic, and as a piece that's challenging. Eugene O'Neill practically invented serious contemporary American theater, and LDJ is his masterpiece. It challenges the artists and the audience with its emotional depth. And it has the courage to probe deep into the human psyche and the family dynamic. Artists Rep audiences expect to be challenged, I think, by great material that is interpreted by artists at the top of their game. Long Day's Journey Into Night delivers that. Also, I think the themes about family and America are as vital today, as when the play was written.
Much has been said about the leading men in the play. What can you tell me about the leading lady?
Robin Nevin, who is playing the mother, Mary Tyrone, has been described as the "queen of Australian theater". She's also the previous Artistic Director of the Sydney Theatre Company [prior to Cate Blanchett]. I've be so impressed with her work; she combines amazing emotional depth with a great technical facility.
What is the hardest thing to "get right" about Long Day's Journey?
The hardest thing to "get right" is to get to the truth of the play and not settle for clichés. That takes the artistic courage to go to scary places you've never imagined with your fellow actors.
There's reportedly a pretty extreme contrast between Long Day's Journey and Ah, Wilderness! (Artists Rep's next offering, also penned by Eugene O'Neill). What would you say are some hallmarks of O'Neill that can be found in both?
Both plays explore similar themes, but from different sides of the coin. They're both about family, but Long Day's Journey Into Night is very much about O'Neill's actual family; there are many autobiographical elements in it. Ah, Wilderness!, on the other hand, is about the family Eugene O'Neill wished he had. It's also O'Neil's only comedy. So it'll be a rare treat for Artists Rep's audience to see these plays in close proximity.