phile under: comedy
Margaret Cho: Musician?
Famous comedian hits the Schnitz tonight,promoting new comedy songs.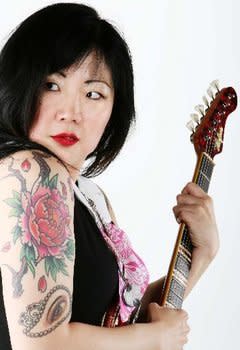 "Margaret Cho" is a name you know. Inarguably the most famous queer Korean-American in comedy, she's carved her own niche among gregarious greats, with riotous impressions of her mother, self-effacing declarations of sexuality ("I'm not straight or gay—I'm slutty!"), and off-kilter stoner observations ("I wonder what it would be like to braid Chewbacca….") There is no question that Margaret Cho can talk your ear off, and you'll laugh your a$$ off.
But how is she at singing?
Tonight at the Schnitz, Margaret Cho will appear, no doubt slinging a few jokes, but also strapping on a guitar to shill songs from her latest project—musical album Cho Dependent, featuring cameos from the following stars:

Tegan and Sara, Tommy Chong, Ben Lee, Brendan Benson, Fiona Apple, Andrew Bird, Jon Brion, Garrison Starr, Grant Lee Phillips, Ani DiFranco, Meghan Toohey, Rachael Yamagata.
Some of those names will undoubtedly get Portland's attention, so Culturephile asked Ms. Cho a couple quick questions about how she plans to hold it.
You'll be in Portland tonight—a town that's almost as famously queer as your comedy. Have you partied much here? Any local scene stories to share?
You know, I haven't!* I've been here a number of times, but it was always to work. I remember being in a bagel shop at 6am, and everyone singing along to Elliott Smith. That was the best.             
That sort of thing happens here. Portland's brimming with the musically-inclined. Will knowing that your Portland audience has tons of musicians in it, change the way you perform your songs? 
Oh, I don't know! I play in front of musicians all the time, but mostly I sing to tracks and play a little. It depends on my voice and what's happening. 
Does it seem easier, or harder, to play music for other musicians?
 
Well, I do it a lot since my work is mostly collaborating with people, so I'm always playing with, or in front of, great musicians.                   
Hearing  a joke more than once, is usually less welcome than hearing a song more than once. Do you think that when you combine music and comedy, you shorten the shelf-life of the songs, or lengthen the shelf-life of the jokes?
I'm hoping to extend the life of both the joke and the song. Some joke songs just rock! Like [Weird Al Yankovic's] Amish Paradise or [Flight Of The Conchords'] The Most Beautiful Girl In The Room – I can listen to them forever. So I'm hoping to have funny songs that also rock, and rocking songs that make you laugh!


Does Cho have the chops to stack up to her musicomical idols, and honor Cho Dependent's A-list roster? You decide:
*Portland, you have your orders: Party tonight with Margaret Cho.