phile under: music festival
Pickathon Founder Speaks Volumes
Indie Roots Music Festival founder Zale Schoenborn expounds on big ideas. Edited by Anne Adams.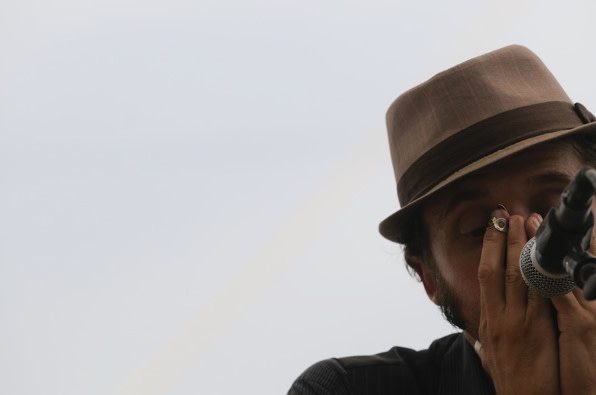 PICKATHON STATS:
44 featured bands
3 day festival
12th year running
THE VISION: To take a bunch of different music styles, and put them under the roof of a festival. Especially the music we were originally focused on was traditional, roots-style music. If you looked at that audience then, or even now, it's a niche that some festivals serve. Like Telluride Bluegrass Festival, or the Waterfront Blues Fest…it's a hardcore fanbase that goes to those, and it doesn't appreciate the styles mixed. I'm a musician, I love lots of styles of music, and for three days, a single style doesn't seem fun. I wanted to make an experience for music-lovers, mixing many styles over a weekend. But because of that, the crowd that travels for those genre festivals wasn't interested. So we had a slower start as a festival. Because for a long time, we weren't "anything" enough, to fit in.
In the Portland music scene, indie rock is really an incarnation of people listening to older music and reinventing it for themselves. They're basically saying, "I like that music, so that's the kind of music I'm putting out." At Pickathon, we book music we like. Just good music, whatever styles, put together. That's how we're different from Sasquatch, which is mostly in the indie rock camp. We'll do that genre, and these really broad based styles. We mix it up constantly on six stages. From Frank Fairfield to Bonnie Prince Billy to The Heartless Bastards, it's all great music, and even if it's not a style you're "into" already, it's like, "I don't listen to that at all, but i like it." Our decisions are soulful, not commercial. We put the quality, and the real heart, into the music we choose. We've really grown through word of mouth. Year twelve, we're growing in international circles, and our influence is much greater, but the concept is still the same.
THE EVOLUTION: Well, this is our fourth year at Pendarvis [Farm]. Coming into a farm with no infrastructure made us build a festival from the ground up. So at this space, the power infrastructure, solar power, art and function, all comes together. We put in 100,000 sq ft of shade fabric over our outdoor space, done with trusses, tension wire, and fabric, by Guildworks. One of our stages, called The Woods Stage, is solar powered. It's like a music church. If you see a set there, it's almost a spiritual experience. People are whispering, listening, really giving their all to the artists in terms of attention. It creates an amazing synergy between audience and performer. So the Pendarvis location really takes it from being just great music, to an incredible experience. We're the keepers of musicians' and audience's favorite weekend of the year. Dr. Dog—and they're a big band now—says Pickathon is their favorite music festival. They're coming off tour to hang out all weekend at Pickathon.
Also, in the past few years, we've become more family-friendly. That started to happen more when I had kids. We end up hosting like 500 kids, and we have a lot of kids' activities. We want to accommodate those types of Portlanders who have families but aren't willing to give up on life and culture. We want to let them take their whole families out and have a great experience too.
THE EXPERIENCE: We range from singer/songwriter acts, to 8-piece bands that will knock the paint off the wall. We have six stages, and each stage is a completely different experience. We have the Mountain View stage and the Fir Meadow stage, where it has that giant festival outdoor feel, and then as I mentioned we have the Woods stage, which is such a small stage, and you have to hike into the middle of the woods to get to it, and when you're out there you can't hear anything from the main stages at all; it's like you're right up next to them. Our Workshop Barn is a completely acoustic space, with no amplification at all. There's only seating for 50 people. It's just a great-sounding room, that happens to be an old reclaimed barn. Artists play acoustically, and in between songs people ask questions, in this tiny room w/ them. Then we have the Galaxy Barn, which fits 300 people. That's an indoor space that, during the day, can range from quiet to loud. And it's an especially great night spot. Energy just jumps off the charts. Bands that will sell out the Crystal or the Roseland, will be at that barn in that intimate space.
Our outdoor spaces close at 10 or 11, and then we move to starlight stage, where the music's a little more chill. That would be acts like Horsefeathers, or Cotton Jones.
THE LATEST: Well, we've got Typhoon this year, and they're gonna come out of left field for a lot of folks. Frazey Ford from Be Good Tanyas, has an amazing solo album coming out. Oh—everybody. I'm always asked this question. The selection process has gotten hard. We're having a hard time turning down bands. All I can say is, these are 44 of our favorite bands. It's hard to select. I love the Heartless Bastards; Erica is an amazing singer. It's forceful. You've gotta call it rock music. Then there's the Stone River Boys, this top-of-the-line amazing country band from Austin. Roadside Graves—you won't know them unless you're in the music scene. Elliot Brand from Toronto, Langhorne [Slim] is one of the best live acts you can ever see, so is Dr. Dog.
I'm a mandolin player,and I like soulful bluegrass more than pretty bluegrass. Like the Punch Brothers, who were just on Jay Leno last Thursday. That's the side project of the mandolin player from Nickel Creek. They're all just still kids, but on their instruments, they're kind of the masters, prodigies. Their banjo player's like the next Bela Fleck. You can't even believe they're playin' what they're playin'. Some of these styles will maybe miss… because it's so broad. But the music is so honest, there's so much soul. We can't afford to bring in the bands who've already succeeded and are just going through the motions, but have big ticket sales. We can't afford that, and that's not what we want to do. We get the people who are still just traveling around in a van, trying to get their music heard..when it's in that raw form, there's just so much passion going into the music.
FOR FOODIES: We have a lot of very over-the-top food experiences at Pickathon. Our vending comes from a lot of farms who do very little retail except at the festival. The food they provide is amazing, and we keep it cheap so people can have amazing healthy local organic food all weekend. Let's just put it this way: it's not your typical festival fare.
FOR GAIA: This year for the first time we're trying to go plastic-water-bottle-free. We're partnering with Klean Kanteen to use stainless steel. A festival like Pickathon can typically use about 30,000 cups, and 25,000 water bottles, and we don't want to generate that kind of waste anymore. So this year we're basically selling stainless steel beer cups. We've installed wash sations, we'll have belt clips and drying racks. So this will be, as far as we know, the first plastic-free fest ever. We'll have some compostables, but trying to keep that to a minimum. Almost a third of our festival planning is about how to reduce/reuse. We do it 'cause it's fun to figure out and pull off.