phile under: TBA 2010
TBA 2010: John Smith
The Girl Chewing Gum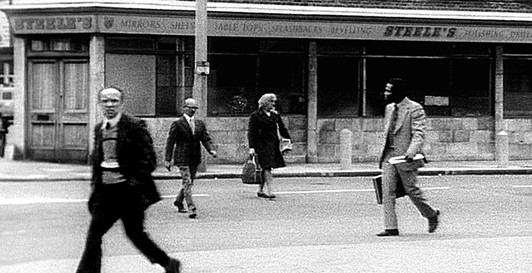 In this piece, you see black and white footage of a busy street. Cars and people pass at random, act at random, deftly sidestep near-collisions, and execute unconscious maneuvers. Meanwhile, a slightly dictatorial voice-over describes the action, while obviously pretending to instruct it.
"Right now, I want the girl with the bag on her arm to walk to the right. Now I want the man rubbing his eye—good."
"The girl chewing gum walks across from the left."
"The lorry, followed by the motorbike—good."
The viewer is not intended to believe that the narrator is actually calling the shots. The complexity of the scene betrays its randomness, and the narration is then rendered absurd. So, the first effect is humor.
But as this conceit lingers on the philosophical palate, a few more nuances emerge:

1) We don't pay attention to what we're doing. The feckless actions of the people in John Smith's scene, are magnified by the narration. People who engage in purposeless gestures (and there are several), are subtly chided for their absence of mind. As you watch people seemingly coast on auto-pilot through their habitual maneuvers, you wonder what unnecessary maneuvers are in your own behavioral repertoire.
2) Wow. On our daily navigations of public spaces, there is such a sensory wealth. So many small things are happening all the time! Some are fun to speculate about (the narrator implies that one of the men in line at a bank has a gun in his pocket and may rob the place), some are sexy (a woman just visible in a faraway window) and some are just good for a laugh (a schoolboy waving his arms around above his head). Girl Chewing Gum shows that if you pay attention, every city block brims with information, stimulation, and entertainment.
3) Well into the piece, when the narration stops, you realize that a car alarm is sounding. How did you block out that annoyance before? However you did it, it speaks to an epidemic of polite societal denial. If everybody pretends they don't hear the alarm bells, does that mean they're not ringing?
"The unexamined life is not worth living," said Socrates. And in his cheeky way, John Smith might be saying a similar thing.
For more information on TBA events, visit PICA. A more comprehensive list of upcoming events can be found at our Arts & Entertainment Calendar.