phile under: october gallery pick
Ace Hotel
Artcrank Bike Posters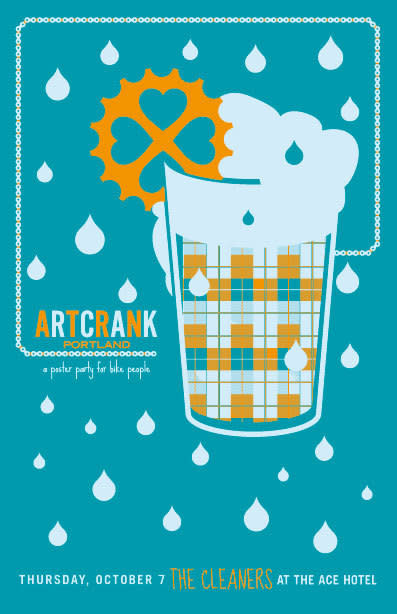 Posters + Bikes. Could it get any more "Portland?"
A coordinated effort between Seizure Palace, popular poster artists, BikePortland.org and Oregon Manifest, the opening will feature libations from Deschutes Brewery, and donations to charitable org Bikes To Rwanda.
The following artists' work will be on-view. Note posterer-to-the-stars Mike King, and Portland Monthly's own Jason Blackheart!
Aaron James • Ada Mayer • Ben Parsons • Berto Legendary H • Bettina McEntyre • BikePortland.org/Lukas Ketner • Craft Svcs. Design Co. • Casey Collett-Paule • Dan Kinto • Dana Mackenzie • David Gabel • Erik Johnson • Faith Brown • Fred DiMeglio • Haley Ann Robinson • Jamie Patrick Paul • Jason Blackheart • Jason Miranda • Jenn Levo • Jennifer Parks • Jimmy Cavalieri • Joanne Slorach • Jolby • Lynn Yarne • Martha Koenig • Mary Kate McDevitt • Michael Hyp • Michael Verhey • Mike King • Natalie Schaefer • Oregon Manifest • Thomas Bradley • Tiago DeJerk • Tom O'Toole
Click the red event title above, for more info. Or, for a more comprehensive list of upcoming events, visit the Arts & Entertainment Calendar anytime!