phile under: gallery
Gallery 903 hosts Alexandra Becker-Black
These nuanced nudes are getting the gallery treatment Culturephile told you they deserved.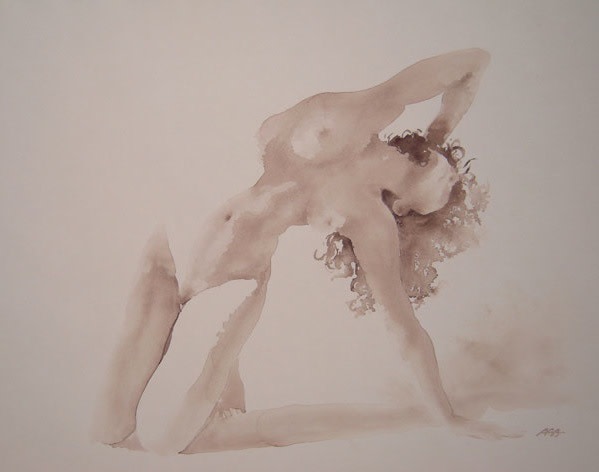 "I told you so." It's an obnoxious statement, but occasionally so true.
Case in point:
Last week, Gallery 903 threw a moderately posh First Thursday opening, accompanied by a live flamenco guitarist and a gracious gallery hostess with a hint of a French accent.
I went. And while browsing Allen Stephenson's golden pastoral landscapes, and admiring Jeff White's vibrant firey cloudscapes—I was stopped in my tracks by Alexandra Becker-Black's subtly masterful watercolor nudes. Where had I seen these before?
A quick search of this site * yielded the following post from a July edition of Weekend Picks:
There doesn't have to be good art on the walls, for me to enjoy my coffee. Coffee shops know this, and so often when they see me coming, they whisk all the good art off the walls and tack up something unremarkable. However: yesterday as I happened into Backspace, I noticed several starkly beautiful pieces by Alexandra Becker-Black. Large expanses of white space and delicate splashes of monochromatic watercolor combined for surprisingly fresh depictions of the most classic subject: the female nude. Part of a show that will disappear at the close of July, these works seem worth visiting—even if you aren't looking for a latte.
At the time of that post, Ms. Becker Black's works were displayed—well, rather nakedly. They were hung on the wall poster-style, cringingly close to errant sprays of coffee spatter. Now that these delicate nudes are getting the star treatment they deserve, all the more reason to go see them. Why? Because I told you so.
Portland Monthly's site recently got far more searchable—give it a try!



Gallery 903 is open weekdays and Saturday, 10-5:30, Sunday, 12-5. For a more comprehensive list of upcoming events, visit the

/">Arts & Entertainment Calendar anytime!