phile under: october gallery pick
PDX Contemporary Goes "Beyond the Fence"
Jacques Flechemuller—Beyond The Fence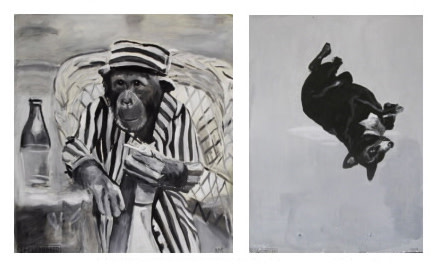 Observe these two pieces. And then note their titles. While the images themselves are expertly rendered, the titles put them in a whole new context. One gets the sense that artist Jacques Flechemuller, despite classical training at Ecole des Beaux Arts de Paris, refuses to take his work too seriously. The chimp is his brother. The dog is falling from the sky like rain. The lighthearted absurdity of these claims, paints a clear picture of an artist amusing himself by poking fun at the world, as well as his own mastercraft.
Click the red event title above, for more info. Or, for a more comprehensive list of upcoming events, visit the Arts & Entertainment Calendar anytime!