phile under: gallery
First Thursday Previews
Short synopses of stuff to see!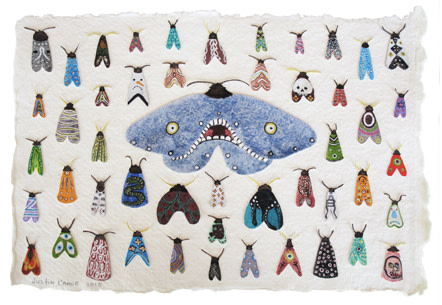 Here at Culturephile, we're trying to find the best way to present events on the big days (First Thursday, First Friday, Last Thursday, et cetera). Sometimes, each individual event is run as its own article with a picture. Other times, we just sift it all into a list. Today, we submit the shortest possible summaries, with links straight to the sources in case you wish to see more. Please feel free to comment on the format, and then get out to the galleries!



23 Sandy Gallery
Strings, Hummingbirds, Knots and Ghosts
Loopy abstractions rendered in single strands of yarn.
PDX Contemporary Art
Natural Selection
Naive, whimsical drawings of freaky new butterfly designs (in case nature is looking for ideas).
Waterstone Gallery
Embracing Chaos
Chaos comes to Waterstone in angular amber arrays.
Blue Sky Gallery
The austerity of a Canadian prairie town, and the opulence of the opera house.
Laura Russo Gallery
Henk Pander's off-kilter still-lifes and arresting plein air portraits.
For more upcoming events, visit the Arts & Entertainment Calendar anytime!