phile under: world wise
New Year Holidays From Here To China
January 1 marks the Western New Year, but not the only one. Why not enjoy Portland's later-breaking international festivities?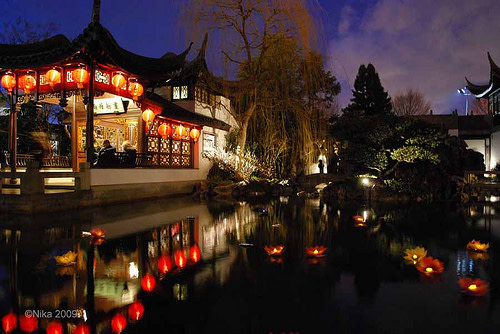 2010 Memories
My, what a year in Portland culture. On this blog alone, we've seen tasteful nudes, talkative clowns, and even a handful of overgrown Annies. We've watched Japanese performance art in the pouring rain, done our best to decipher ten tiny dances, and demanded answers from a folk-singing cabbie, a novel-writing stripper, and a girl in a box, just to name a few. There's been music, laughter, chaos and charity, and 2011 will surely bring more of the same.

NYE Plans
This New Year's Eve, practically every bar in Portland will host some sort of bash. But in case you're lost, Culturephile's blog brother The Bar Pilot has already compiled a short list of recommended reveling spots.
However, if you miss these festivities, don't despair; January 1 is only the first of several viable New Year dates. If you switch from the Gregorian to the Julian calendar, for instance, or if you take your cues from the moon, you'll discover there's still time to celebrate the turnover. Does this sound like an excuse to prolong partying? Well—maybe it is. Anyway, might as well mark your international calendar for:
RUSSIAN NEW YEAR
Rumor has it, The Secret Society Lounge will host a big, authentic Russian New Year bash on January 15 (although it doesn't seem to be listed on the Lounge's calendar. Shh; it's a secret.) Local Eastern-bloc rockers Chervona will headline, supported by Russian folk singer Natasha Hauge and Russian DJ Zhenya. Celebrants will be taught the proper traditions of vodka drinking—namely, washing down plenty of zakuson, Russian drinking snacks. Russian Santa, Ded Moroz, and his partner, Snegurochka (the Snow Maiden daughter of Spring and Frost, who yearns for the companionship of mortal humans) will both appear, partaking in a traditional Russian tree-lighting ceremony.
JAPANESE NEW YEAR, aka MOCHITSUKI
On January 30, this traditional celebration of Japanese rice-pounding should be bumpin', with not-one-but-two breakdancing troupes, Portland Taiko drum performances, and many other Japanese attractions, both traditional and modern. It's at the Scottish Rite Center, but don't let that confuse you.
CHINESE NEW YEAR
This coming week (Jan 2-9), Lan Su Chinese Garden will be open free of charge—but again, don't be confused; that's not Chinese New Year—that's just Lan Su being nice. New Year celebrations begin on February 3, and culminate on February 17, with an evening ceremony lit by several hundred glowing paper lanterns. During regular business hours throughout the celebration, the Garden will entertain visitors with lion dances, martial arts demos, traditional music, and hands-on art activities. Each guest will receive a red envelope, signifying a wish for prosperity in the coming year. What's in it, you ask? Your hopes and dreams.
Whenever you choose to start 2011—and however long you make it last—Culturephile and Portland Monthly wish you a happy new year.
For a more comprehensive list of events, visit PoMo's Arts & Entertainment Calendar!