phile under: five questions
5 Questions with Good Night Billygoat
Stop-motion impresario David Klein of Billygoat opens a window into the band's world of miniature magic.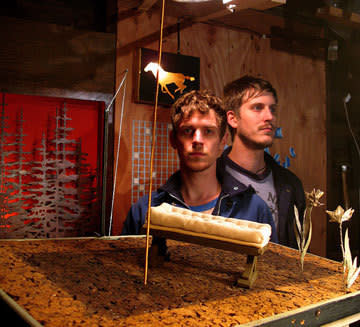 We first published this piece in June 2010, but since then the music/film force known as Good Night Billygoat has made great strides, augmenting their live lineup with drummer Corey Nelson, finishing a new work called "Sophia," recording a multimedia disc as merch, and embarking on a nationwide tour with Little Dragon . Last night, both Dragon and 'goat held the Doug Fir in awe, and as the crowd dispersed into the cold, a few were overheard murmuring theories and questions about the brilliant stop-motion animation. Here are at least a few answers.
David Klein and Nick Woolley, of Klein Wooley Productions, subsist on rustic soups; play ambient, epic multi-instrumental duets on harp, bass, and drum machine; and create intricate stop-motion films featuring birds, snails, and sylphs; all from the mossy confines of their workshop, a North Portland garage. (Magical realists, you were right all along—there are elves in our midst.) On the heels of the duo's performance at No.Fest, Culturephile caught up with Klein, for the latest round of five questions .
You really can't talk stop-mo without talking about frame rates, hours, number of pieces in a sequence. Run me through some of the numbers that pertain to your process.
Frame Rates run about 10-12 per second. [That's 600-720 stills per minute.] As for hours—Geez. Nick and I will spend the day working on light-boxes and simultaneously prepping for shooting stills into the evening. We'll spend about 4-5 hours taking photos. Getting 5-10 seconds per day is the goal. I'm usually editing from 1- 3am (while The Simpsons or NBC is massaging my shoulders) Not to sound like a total hippie, but the video is done for the evening when it latches on to a rhythm.
Your pieces seem to be very dreamlike, and they evoke a lot of familiar icons while still feeling unfamiliar. How do you decide what images and characters you want to create?
The imagery is always displayed in a somewhat simple form, letting an audience interpret what they will. Most of the images come from our environment, reoccurring dreams, and coincidences. And some images come from whatever is within reach depending on budget (which doesn't actually exist). The people featured in the animations tend to come with the creative archetypes they are channeling, and we do our best to translate this into the video.
Let's talk flow: do you decisionmake scene-by-scene, or do you mastermind the whole narrative arc of the imagery before you start?
I sometimes am amazed these things even have a flow. They're constantly shifting/morphing. Now I just look at the set in the afternoon and will ask myself "What is the most practical way to approach this today without wanting to jump off St. John's Bridge by nightfall?" So it's really day-by-day at this point. Anything can happen, which is reassuring.
Does the music shape the animations, or vice versa?
The first two animations we did, really dictated the musical accompaniment, without a doubt. But sometimes the music and video will argue back and forth and we'll have to lengthen/shorten one or the other. The current animation in progress, Sophia , is looking like the most open-ended of the three.
What experience or feeling are you trying to bring to your audience?
Before ever making any animation, I was reading a book on color and human responses and I got inspired by film-maker Cecil Stokes and his Auroratone Films, which were used to treat veterans post WWII. Not that we're wanting to hypnotize the audience, but having a collective releasing session isn't the worst thing that could happen. We're here to make you feel good!
If you missed Billygoat last night, don't fret—there are many more great events in the offing. For a list of upcoming events, visit PoMo's Arts & Entertainment Calendar!