Article
Five Questions With Vin Shambry
Superior Donuts' frontman talks shop about acting fresh, conjuring courage, and breaking his own heart backstage.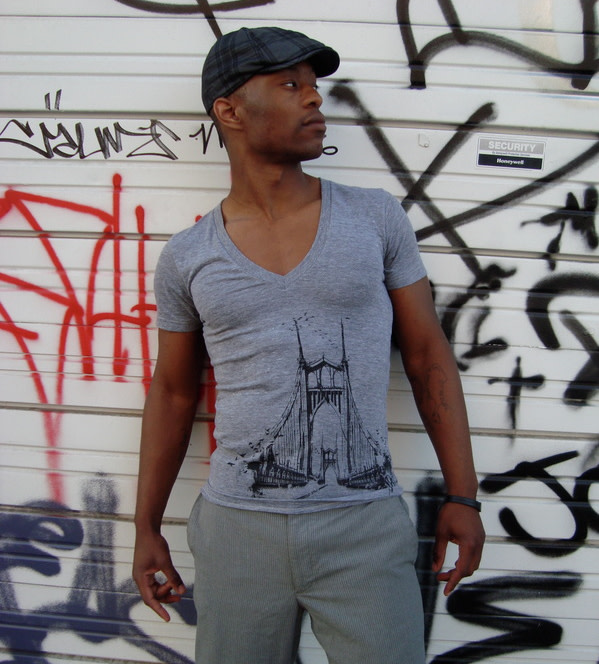 "Hey, Good-Lookin'!" exclaims a beaming young man to a bleary-eyed older one. Arthur Przybyszewski, a downtrodden donut-shop owner in a rough Chicago neighborhood, sighs, seeming to regret opening his door. But hyper-energetic 21-year-old Franco Wicks is unstoppable. Franco immediately hits Arthur up for a job, then, without missing a beat, starts bouncing around the shop cracking jokes and trying to make improvements. The Eeyore/Tigger tension between the two is palpable at first, but Franco gradually wears the old man down (or, more accurately, buoys him up) until the two characters can actually see eye-to-eye.
In Artists Rep's staging of Superior Donuts, Vin Shambry plays the role of Franco with a radiant, irresistible charisma that lets him pass for an earnest first-timer, rather than the classically-trained Broadway theater vet that further investigation reveals him to be. On the night Culturephile caught his act, he so thoroughly "punked" young audience members, they seemed ready to invite him to a kegger. Judging by this performance, and his recent return to PDX, it seems we'll see more of Vin. So let's engage him in a round of five questions:
In this play, your performance is very natural and doesn't come off as "actorly" at all. If someone didn't know your resume, they might guess that you were a fresh face who lucked into a character very similar to himself. Are you a lot like Franco Wicks, or is it a stretch for you? If it's a stretch, how do you keep your energy so fresh and unaffected?
Well, I guess I am still a fresh face here in Portland since I just returned home a little over a year ago. During my eight prior years in New York training at the American Musical and Dramatic Academy and performing on and off Broadway, I played a number of roles… but indeed none that I identified with as much as Franco. But I actually found that the similarities between Franco and myself—our backgrounds, the life of the hustle, our general outlook on life—made this role more challenging. Because Franco and I do have a lot in common, I had to go deeper and really reflect on my own self in juxtaposition with Franco. Reflecting on the spaces where Franco and I are actually very different people, allowed me take only what I needed from my own personal life in order to fully step into the world of Franco Wicks.
Though Franco starts off very idealistic and energetic, after a long disappearance, he returns jaded and despondent. What do you do backstage to make that mental transformation?
From the moment I step onstage, I am experiencing every moment of Franco's journey. I feel every instance of hope, joy, frustration, etc… During my quiet time off stage, I am still Franco. As I sit backstage and listen to the scenes, I have time to reflect on how my world is falling apart – my relationship with Arthur is changing, I don't have a job anymore, my fingers have been cut off, my book is destroyed. I think anyone who allows himself to walk in those shoes, even if only for 2hrs a night, would sincerely feel heartbroken, and it would show on stage.
Courage (or lack thereof) seems to be a big theme in this play, from the slur "pussy" that's painted on the wall at the beginning, to the final word of the first act, "coward." Franco starts the play with a lot of courage, then seems to pass it on to Arthur, but in the process, it seems like his wellspring runs dry. Where does courage come from? Is it a bottomless resource, or does it deplete and have to be refilled by others?
I think that every character in this show has (or develops, in Arthur's case) a sense of hope. It is exactly that hope which gives them courage. However, every character also has fear lying just below their surface which tugs away at that hope… and simultaneously depletes their courage. I think at the end of the show Franco loses his hope and thus his courage. The last scene is Arthur's chance to help replenish that hope and courage within Franco.
Your costar Bill Geisslinger (Arthur Przybyszewski) has a much quieter stage presence than you do, but that seems to work in this play. What's it like to bounce around and crack jokes while your counterpart performs such a somber slow burn, versus playing off a whole cast of livewires (like you did in RENT or Alice And Wonderland?)
I knew from the beginning that I had to drive the show with youthful energy and maintain it regardless of how the other characters reacted to me. My safe haven has always been musical theater, which requires a lot of raw energy but also allows me to rely on those singing and dancing on stage with me to help produce that energy. In Superior Donuts I had to create and maintain that energy alone. However, when you play opposite someone of Bill's caliber, even through his silence and somberness he is giving me a lot to play off of in order to keep up my level of energy.
According to your bio, you've been on Broadway, but call Portland home. Will we be seeing more of you in local productions? What are you working on?
I am here to stay! Born and raised here, Portland has always been my home. Opening Feb. 22nd, I will be performing in One Flew Over the Cuckoo's Nest (Portland Center Stage), followed by How I Became a Pirate (Oregon Children's Theater) opening April 30th. I look forward to working in Portland for years to come.
Superior Donuts continues at Artists Rep through Feb 12. For more upcoming arts events, visit PoMo's Arts & Entertainment Calendar!