tune in: television
Portlandia Premieres in NYC
We've hit the big time!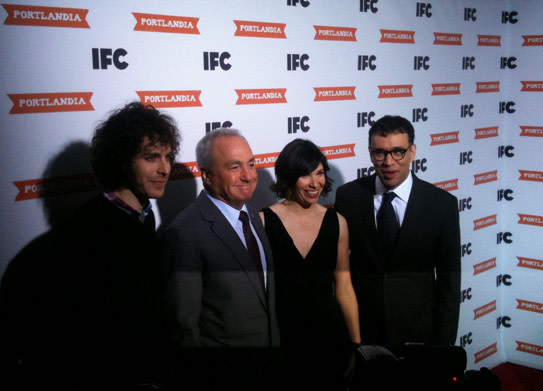 Portland Monthly's intrepid editor, Randy Gragg, happened to be in Manhattan this week and so stopped by Wednesday evening's premiere of Portlandia at Edison Ballroom in Midtown. It was his first-ever, red-carpet reporting experience. The IFC marketeers placed him between reporters from the soon-to-debut Ipad mag, The Daily, and the website, That Girl at the Party. As the show's stars and various others streamed through the bright lights to a screening attended the show's executive producer, Lorne Michaels, and FOFs (friends of Fred Armisen) like Heather Graham,  Andy Samberg, Abby Elliott, Bobby Moynihan, and Nasim Pedrad, a reporter from the TV station, NY1, maybe put it best: "Tonight, we're going to show you Portland, Oregon (pronounced Ah-ri-gun) like you've never seen it before—through the magic of television."
A few highlights as the various players were herded by people wearing headsets:
Jonathan Krisel, Director
My grandfather lived on Mt Hood. I came out every summer. I went to OMSI. We did alotta berry picking. We would make jam. Portland's the best.
Maybe the show will cause people to come. I was at NYU when that show Felicity was on. It took place at a fictional NYU, but it got slammed with applications because people wanted that Felicity experience.
But I tried to make a show that Portland could be proud of, that was capturing what Portland cares about, kind of a hand-crafted, artisanal show itself. It's kinda low—fi. I did most of the editing myself. It wasn't like a big corporate machine coming to town. I mean Carrie is emblematic of Portland. It isn't like Kyra Sedgwick is starring in the show. Carrie is a real Portland person. She's the one who still has to go that coffee shop every week and still be respected. I tried to create a celebration.
Fred Armisen
The show's a love letter to Portland.
What was the first heart-throb of affection?
It was visiting this teeny little coffee shop on Carrie's corner. All the houses in the neighborhood are Craftsman style. It was quiet. It was in an old gas station. There was good coffee. This great place. It was a perfect moment. Hey Carrie, what was that coffee shop on the corner?
Carrie: Do you mean, Wholesome Blends?
I just want to say, Hi Portland. Hi Holy Sons. That's my favorite group in Portland – besides The Thermals.
Carrie Brownstein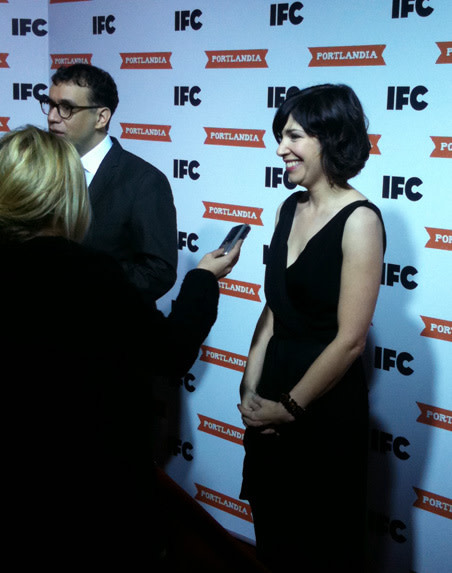 Where's your outfit from?
My whole outfit is all vintage, head-to-tail, Xtabay.
What about all this is most surprising?
ALL of it! I mean, what's most surprising in retrospect is how rarified my world has stayed. Sleater Kinney and the music I played was in the indie rock community. It always felt contextualized and always felt part of the community. Then Fred and I started making these videos. It was really organic. And somehow we were able to find a network that wanted to maintain the purity of it. And we ended up shooting in Portland with a local crew and I never spent a night away from my house. What makes this show so unique to especially people outside Portland—they talk about how they've never seen anything like it—well it was just created in this very rarified way in a very special city. I just feel lucky it maintained that quality.
Any advice to Portland for weathering the storm of Portlandia?
Stick with it guys. I know as a Portlander that I halfway feel guilty because when anyone does anything that gets noticed, you feel partially guilty about it. And that's just a self-consciousness we all possess. You want everything to feel communal and everybody to love it and support it. But hopefully the show's just part of an ongoing dialogue that's been taking place for a long time. Who are we? What does it mean to be fortunate enough to live in a city like it?
The Thermals
Hutch Harris: Maybe the show will be the thing that kills Portland, Westin Glass: We're going to move to Boise after the season finale. Kathy Foster: Boise's the new Portland. Harris: Yeah, listen people—anybody moving to Portland from New York should just go straight to Boise. Foster: Yup, get in the ground floor cheap real estate.