phile under: theater
The Imaginary Invalid at PCS
A bodily and bawdy new adaptation of Moliére's comedy of medical manners, takes to the PCS mainstage.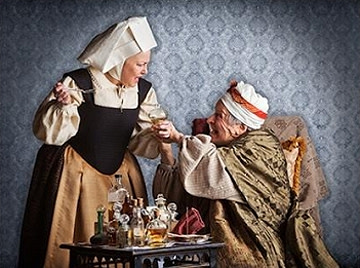 At its premiere, Moliére's The Imaginary Invalid must have been a scathing farce about the ignorance and quackery rampant in the field of medicine in France in the 1600's. Now, a new adaption by Constance Congdon serves a duck of a different color. She pulls to the forefront all manner of silly and ceaseless jokes about farts, sex, and cow poop (twice mentioned).
Here's the story rundown: An old man is ill and overly reliant on his doctor. His daughter is young, beautiful, and in love. His new wife is a schemer. His maid knows the truth. Hilarity ensues. The result, at Portland Center Stage through February 6, is a frothy, frivolous night at the theater that fizzes past without leaving much of a trace behind. But there's plenty of fun to be had before that curtain comes down; in fact, this may be the merriest band of scenery-chewers ever to grace a proscenium, and the gang of players brings wit to a spate of scatological humor that would be a tiresome slog in less skilled hands.
Draped in sumptuous period costumes by designer Jeff Cone, the cast is delightful to look at. John Wernke, as the romantic hero Cleante, shows comedic mastery in his luxurious blond-locked wig, and he has such a way with a pair or preposterously pleated pantaloons, that I might be tempted to sit through the entire production again just to re-watch his entrance.
Hollye Gilbert and Christine Calfas both do amusing turns respectively as Angelique (the angelic, virtuous daughter, huh, really?) and Beline, the scheming, wicked step mother ( huh, really ) . Danny Wolohan, plays Claude, a doltish rival for Angelique's affections, as a slack-jawed, screen-staring, rugby-jersey-wearing galoot—despite being trussed up in tights and festooned with ribbons. The combination of character and costume is silly, and a little weird, and totally wonderful to watch.
But it is David Margulies who holds center stage in this production. He is Argan, a hypocondriac invalid who may (or many not) be dying at a moment's notice. Margulies brings a respectful balance to his role, playing a querulous old fart for laughs, but unearthing beneath the flowing brocade dressing gown and silly night cap, a vulnerable little old man, genuinely consumed with the aches and pains and treatments of his age and his unspecified illnesses.
Audience favorite Sharonlee McLean, plays the tough and grudgingly devoted maid, Toinette. She is the keeper of any and every ounce of good sense in this play, and as such she delivers a lot of punchlines with impeccable timing, a welcome breath of salty air, and an unwavering (though often unspoken) fondness for her charges. McLean also spends a fair amount of time opening and closing the large windows and dressing the canopied bed on William Bloodgood's regal single-room set.
Constance Congdon's adaption released Moliére from obscure manners, but drops her audience pretty consistently into conversations about cow poop. It feels modern and breezy—on the other hand, that's an awful lot of fart jokes.
For other upcoming arts events, visit PoMo's Arts & Entertainment Calendar!