tune in: radio
Tune In: Destination DIY
Learn more about OPB's latest feature series, and meet the blue-haired host who "does it herself."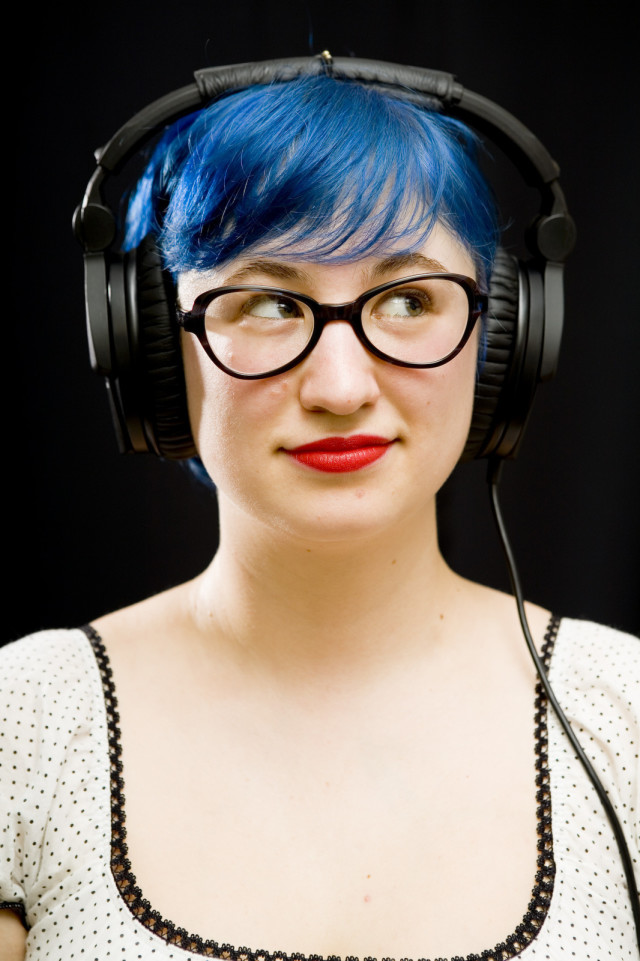 Well, it's a small world here in Portland arts—small enough that occasionally, a press release comes across my "writer" desk, promoting some project that I've actually contributed to in my off-hours "artist" role. Should I shun these projects in the press? Sometimes I do, on principle. But sometimes the same thing that drives me to participate in something, also compels me to promote it: it's pretty good stuff.
In this case, the latter principle prevails, and I'm going to go ahead and alert you to an excellent local radio show. It's called Destination DIY , and it's been around for ages, springing up through KBOO grassroots, and recently reaching the limelight of OPB. As Portlandia calls the world's attention to Portland's thriving DIY subculture with sketches like "Put A Bird On It," OPB has appropriately rewarded Destination DIY , a trendspotter of the real thing, with air-dates throughout March .


HOST JULIE SABATIER EXPLAINS MORE:
What inspired you to put radio and DIY together to form this show?
About five years ago, I had a lot more time on my hands and I was just getting into radio production. There was a half-hour monthly slot open in KBOO's schedule, and I thought it would be a great way to discipline myself to really hone the craft of radio. (The production values of the early shows are pretty awful as a result.) The topic of DIY seemed like a great umbrella to discuss a lot of things I find really intriguing: people who apply their own creativity to all aspects of life, whether they're artists, inventors, urban farmers or even economists! And I figured in a place like Portland, I'd never run out of material. So far, that's been true.
What's the weirdest thing you've ever heard tales of people "doing themselves?"
I heard that the actor James Franco is teaching a master class on himself and his work—that's pretty weird. And there was a crazy article in Wired Magazine recently about a woman who does surgery on herself to "extend her senses" by putting magnets under her skin and stuff like that. Yikes! I'm planning a show on DIY Disasters, which should yield some interesting results on this topic.
Why DIY, when someone else could "DIFY?"
I think a big driver behind DIY is the sense of pride that people feel when they try something that might be outside their comfort zone and they're excited to share the results. And that applies to all kinds of projects, whether it's something really personal like planning a DIY memorial service or just fixing your garbage disposal. Doing something — or at least trying something — yourself rather than having someone just "DIFY," is always a more enriching, enlightening, and empowering experience.
You also work on Think Out Loud; how do the two shows compare?
Well, for one thing, they have a completely different relationship with OPB. Think Out Loud is produced at OPB with a full staff (which includes me) employed by the station and Destination DIY is an independent entity and is produced by me as well as some volunteers, freelance producers in other parts of the country, and an engineer that I contract with. The show is licensed to OPB for a very small fee. Of course, the formats are also widely different. TOL is a daily, live call-in show focused on news and culture statewide and Destination DIY is an occasional series of documentary-style shows for which all the material is pre-recorded and is not focused solely on Oregon. Destination DIY is a self-directed project, which reflects my own particular way of looking at things, while Think Out Loud is much more of a collaborative effort.
Walk us through your process. How much raw audio do you capture? How do you edit and for how long? How often do you work on it, and how much do you do yourself?
My short answer is that a minute of Destination DIY translates into roughly an hour of work. That includes recording, editing, writing and mixing. It averages out to about 10 hours of work per week (on top of my 40 hour/week job) in a 6-8 week production cycle. If it's just a simple back-and-forth interview, I'll usually record between a half hour and an hour with a subject, and then cut it down to 5 or 10 minutes. If it's a feature with lots of different voices and scenes, I might record as much as 8 hours' worth of material and cut that down into little chunks. I transcribe the chunks and choose among them to start building a script. I like the story to really grow out of the audio, rather than writing something and trying to wedge the voices in afterward. I also work with other producers around the country, who pitch ideas to me. Once I accept a pitch and they've recorded their material, we might go through 7 or 8 drafts of a script before we do what's called an "ear edit," where they read the script to me over the phone and I play the clips from my computer to simulate what the finished piece will sound like. Once I have my entire show script recorded and edited and the whole show cut to time, my awesome engineer, Clark Salisbury goes over it with a fine-toothed comb, tweaking the volume, fixing bad edits, and making sure the musical interludes sound good. Clark and I work together to make small adjustments to the timing to get it just right. I probably listen to the full hour 4 or 5 times before it airs.
Destination DIY airs on OPB throughout March. Click here for air schedule . For more upcoming arts events, visit PoMo's Arts & Entertainment Calendar, stream content with an RSS feed, or sign up for our weekly On The Town Newsletter!