dance
Anne Mueller's Ballet Memories
Oregon Ballet Theatre's Principal Dancer reminisces about some of her favorite experiences as she prepares to retire this weekend.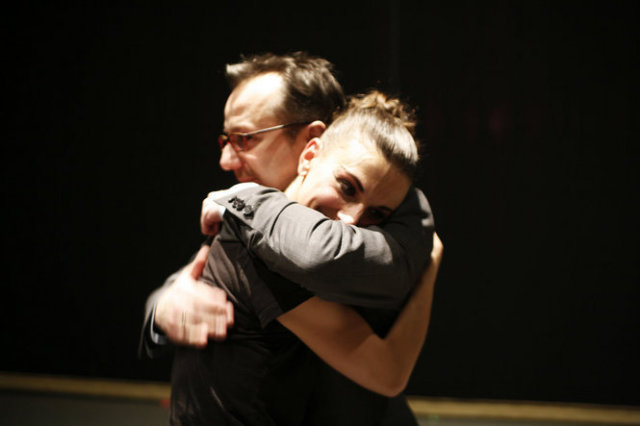 This weekend, Anne Mueller will dance three pieces in Song And Dance: a noir-ish ensemble number with chairs (Left Unsaid ), an agressive hiphop throwdown pas de deux (Speak ) and a lighthearted full-ensemble romp to classic showtunes and jazz standards (Eyes On You ). Then she'll hang up her toe shoes and retire from a 15-year dance career, ducking behind the scenes to serve as a teacher and repetiteur. Before she goes, Mueller takes the time to reminisce in this interview with Culturephile:



Tell us about some of your favorite memories from your time dancing with OBT.
Gosh, I have so many of these types of memories….I think I could talk for hours about all of them! To try and capture a few:
Moments
Many years ago we did a tour to Colorado. It was a pretty tough tour as we performed in 2 or 3 cities in just 3 or 4 days. We had to deal with dancing a really physical repertoire at high altitude with no time to adjust to the thin air. The morning we left, we had just spent a very short night at a less-than-glamorous Rodeway Inn (which came to be known in company stories as the Roachway Inn). I'm sure there are many lovely Rodeway Inns in the country, but this was not one of them. Our bus call was at 4:00 am on a Sunday morning, which happened to be my Birthday. We were on the plane flying home and I was deep into a really good book. A flight attendant came up to me and started bugging me. I had a short fuse and really just wanted to enjoy my book. Just as I was about to let this guy know how I was feeling about him, he handed me a glass of white wine (an actual glass,not a plastic cup) and a card. I opened the card and was so very touched to see that my fellow company members had not only remembered my birthday, but had taken up a collection to get me a very generous gift certificate at a fantastic Portland boutique. I felt truly loved by a lot of wonderful people.
Years later, I got engaged to my incredibly awesome husband. We had decided that we were going to line up all the marriage paper work and such but not plan a wedding of any kind. First we thought we'd get married on vacation in Puerto Rico, but the extensive bureaucratic mess that would have been discouraged it. We decided to just wait until the mood hit us, then tie the knot spur of the moment. With this plan, I think my co-workers were a bit confused about how to celebrate the event. That was the same year that OBT launched the "Who's Your Dancer" campaign. Designer Adam Arnold outfitted all of us for those first posters. He then asked Brennan Boyer and I to be in his Spring fashion show. He made a polka dotted dress for me for the show. It's wonderful, cream and strapless with a poofy skirt and the polka dots are like spumoni ice cream. Lars and I discussed buying the dress from him after the show since I was feeling like "if there was ever a wedding dress that suited me, this would be it". The price was too high, so we let it go. About a month later I walked into the dance studio for morning class and had that feeling when I walked in the room like everyone had just been talking about me (that awkward silence). I looked over at my barre spot and hanging there, tied with a matching bow, was the dress, a wedding gift to me from my co-workers. I love that dress!!!!!!!
I'm not sure why both of these stories are about fashion. They aren't really about dancing, but they are about the bond that develops among a group of people that work so closely together under very high pressure; it's very special and I suspect one of the things I'll miss the most.
Pieces
In no particular order…
Serenade (Everyone who's danced it says that; it's like participating in an ancient ritual or rite of passage)
Duo Concertant (with my dear friend Karl Vakili, also later with Lucas Threefoot)
Earthbound (We only did it once, but it was very special to everyone who danced it)
Just (There is a short, lyrical duet that I danced with Alison Roper. It's a small section, but so quiet, lyrical, powerful, and feminine. We are very close friends and this was made on us by another friend, Trey McIntyre)
Concerto 622 (a really joyful, group experience)
Rite of Spring (my favorite role ever, so challenging, so primal)
Eyes on You (which we're doing right now; I love to see all the cast members dancing beautifully while also being wonderfully funny)
Bolero (truly life-affirming)
I'm sure I'm missing a ton.
Music
Would probably be the same list. There is some music that I love that I never danced to, some selections by Satie, Ravel, and Arvo Part.
Audience
Definitely the first time I danced "Go Ask Alice". I had just joined the company and I had come here from a more conservative community (in terms of audience reactions). The curtain went up and many of the ladies (including myself) in the company were pre-set onstage for the "Breathe" number. The audience went absolutely nuts at the start of that piece, like a rock concert. They were screaming and waving lighters in the air.
You must have imagined being a principal dancer in a professional company, your whole life. Once you got there, what aspects of the real thing were most different from your dream?
Actually, during my training I was exposed to several professional companies, but none were ranked so I didn't really develop with the ranking system as part of my consciousness. I did, certainly, dream of dancing lead roles. I'd say the experience of dancing lead roles certainly matched my expectation in many ways, but when you're dreaming you don't think about the stress related to such things. It can be quite high pressure sometimes. Of course, that's part of what makes it thrilling.
What was your takeaway from your recent collaborative choreographic effort, Stravinsky Project?
I was inspired most by working with the dancers and watching them work with the other choreographers. Dancers are the fuel that feeds choreographers most, I think.
There's an emerging audience awareness (and appreciation) of ballet as a physically demanding sport. What was your worst "sports injury," and your recovery process?
While I'm delighted by this new appreciation of the physical demands of ballet, I don't like talking about the injury thing too much because, unlike sports, the point of going to the ballet is escaping to a visceral, transcendent place. It's hard to do that if you're imagining the dancers hurting or struggling with injuries. I have, though, had a ankle surgery and did spend about a year sleeping in a cast every night.
What's next for you after OBT—in the immediate future as well as further along? Vacation? Teaching? More dance performances?
I'm delighted to continue my work for OBT as Artistic Coordinator. I've been doing this part time for the past few years and will transition to full time as I phase out the dancing part of my work. I love the work this entails (setting and rehearsing ballets, assisting Christopher, working with the administrative staff on tours and various projects). I am going to go on a Southern/Eastern Oregon hot springs trip that I'm very excited about.
For more about Portland arts events, visit PoMo's Arts & Entertainment Calendar, stream content with an RSS feed, or sign up for our weekly On The Town Newsletter!