from the p.m. pages
Q&A: Lewis Black
"Laughter is one of the few things that allow us to hang on to sanity."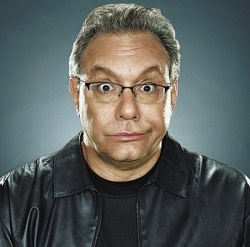 Upon hearing that comedian Lewis Black will hit the Schnitz this week , events editor John Chandler immediately thumbed through some old issues and exhumed the following Q&A from June 2007. Though this issue of PoMo has long since become decoupage fodder, the caustic comic's answers hold up fine.
Have you always been an angry comic?
No, the first stuff I did was all about my sex life—which was pretty funny at the time. The anger thing didn't really come along for another 10 or 15 years. The stupid thing is, it was right there in front of my face. I was funny when I was yelling.
Whom do you find funny?
Dave Attell, Kathleen Madigan, Dom Irrera, John Bowman, Susie Essman, Judy Gold, Bobby Slayton—it's a long list.
What do they have in common?
They all have a really strong point of view, and they don't back off. They lead audiences to places the audience really doesn't want to go sometimes.
So they actually stretch an audience's comedy muscles?
Exactly! The nice thing about the current boom in comedy is that it does stretch that muscle. But it should have been stretched since the time we were kids. You know, the breakthrough of the first knock-knock joke. Laughter is one of the few things that allow us to hang on to sanity.
If there is a liberal media, would The Daily Show be its flagship?
I think we're the flagship of the "How stupid are you?" media. We go through the day's news and say, "Hey! Here's what you might want to pay attention to."
More about comedy…
More interviews…
Lewis Black will be at Arlene Schnitzer Concert Hall on Friday April 8. For more about Portland arts events, visit PoMo's Arts & Entertainment Calendar, stream content with an RSS feed, or sign up for our weekly On The Town Newsletter!