scene & herd
April's First Thursday
A fly-by of a few April arts impressions.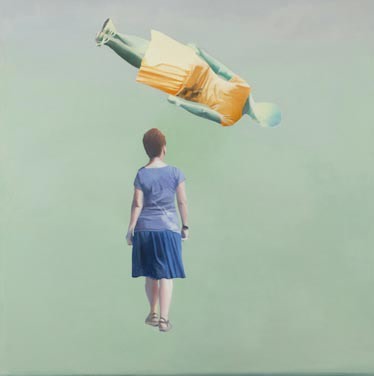 WHAT: First Thursday | WHEN: April 7 | WHERE: The Pearl District, Selected Galleries
FROELICK
Each of Theresa Wingert's large-scale pigment print landscapes, overexposed as though seared by sunlight, was accompanied by a pair of headphones that played ambient sound effects—the flap of pigeons scaring out of sagebrush, the snort of a horse…
In stark contrast, each of Susan Seubert 's small, dark, underexposed sepia ambrotypes zeroed in on a singular careworn object: a pair of sandals, a packet of letters, an uninhabited antique bird cage.
AUGEN
Trude Parkinson's paintings, large solid colorscapes with small, clothed figures as subjects, were hung on hinges so that they could be flipped free of the wall like a page, and viewed two-sided. The paintings' "backs" revealed silhouettes of the front-side figures, and each had a recessed box containing an anatomical sculpture: here a vertebra, there a foot.
BLUE SKY
Michael Light's large bird's-eye landscapes evoked the liftoff view from an airplane window—still close enough to discern detail, but far enough away to reveal prevailing patterns, whether natural or man-made. Light flipped through a massive book of his prints, expounding on different locations. "This is Paradise Valley, in Pheonix, Arizona," Light indicated. "I'm pretty sure Darth Vader lives there."
Meanwhile, Mitch Dubrowner patiently fielded a vague question about his epic, thunderous black-and-whites of twisters, lightning, and billowing cumulus clouds. "Do you have a process for finding storms?" asked an enthusiastic gallery-goer.
In the embedded Nine Gallery, Culturephile finally tracked down the exhibit that had been promoted by a single cryptic piece of chalk, sent to our editor last week in an envelope. The work, Bill Will and Lebrie Rich's Blank Slate, was a world-map on the wall, and a globe sitting on a pedestal, both rendered in blackboard texture-paint, with chalk on-hand so that visitors could contribute.
BUTTERS
Michael Kessler 's acrylic on panel provided the latest answer to the classic riddle, "What's black and white and red all over," incorporating subtle, polished texture techniques that made creamy whites and grays glide over bolder strokes like a fog.
Andrea Maki's giant horse prints were muzzle-nuzzlingly close, and huge in scale. The wisps of hay that jutted out here and there, were in places as wide as a wrist.
WHITE BOX
Chinese multimedia interactive artist Hung Keung entertained an attentive audience with an explanation of his piece, Bloated City | Skinny Language. "In the advertising in China, they always encourage the lady to be more skinny, in the language. And to make the breasts more bigger." At the same time, he said, the cities are burgeoning beyond their bounds (like bloated breasts). "Let's get away from short cuts," said Keung. "Slim gradually. Grow a city gradually."
A walk through Keung's piece gradually revealed Chinese calligraphy han characters installed on corners and walls, and finally opened on a giant back wall which magically projected an image of the viewer, and fluttering han characters that appeared to follow each subject's movement and perch on his or her head and arms.
For more about Portland arts events, visit PoMo's Arts & Entertainment Calendar, stream content with an RSS feed, or sign up for our weekly On The Town Newsletter!