Read This
Poetry in Place
Forget the workaday functionality of ordinary maps; in this book, author Denis Wood redraws and redefines his neighborhood based on everything from radio waves to sidewalk graffiti.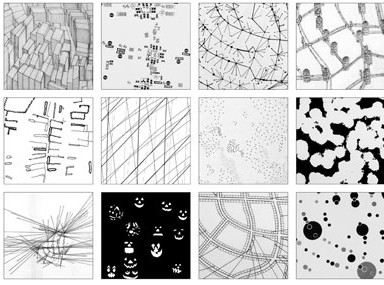 Most maps are made up of tidy grids and arrows. Those maps are useful when getting from point A to point B, but the meticulously regimented to-scale squares are functional workhorses. The maps of Denis Wood's book, Everything Sings, on the other hand, present a quietly contemplative portrait of a neighborhood through unconventional means.
Wood—a geographer and scholar whose work focuses on maps—has a talent for delving beneath the surface. Taking his neighborhood of Boylan Heights, North Carolina, as his subject, Woods draws a series of maps that tell a rich story of where he lives. Instead of streets and intersections, Wood's maps sketch out the area by patterns: the location of Halloween pumpkins on porches, where (and what kind of) sidewalk graffiti can be found, the varying sizes of trees lining the streets, and even a space/time spiral map of one local paper carrier's route.
There's thoughtful text to describe each map and to explain what you're seeing, but the real power lies in the maps themselves, which are sublime works of art when considered in solitary. But when taken together, the interweaving stories and threads of personality emerge from the whole, giving a strong sense of the place and the people who live in this town.
"What they chart isn't Boylan Heights exactly but Wood's feelings about Boylan Heights, his curiosity about it, and his sense of wonder at all the things about the place that are overlooked and unnamed," says Ira Glass in his wonderful introduction to the book. Definitely worth buying, to pick up and consider again and again, this book is a poetic naming of a neighborhood that will almost certainly make you reconsider your own sense of place.
$28 from Siglio Press.