Culturephile
Global Canvas
Connected the wider art world to Portland—and vice versa.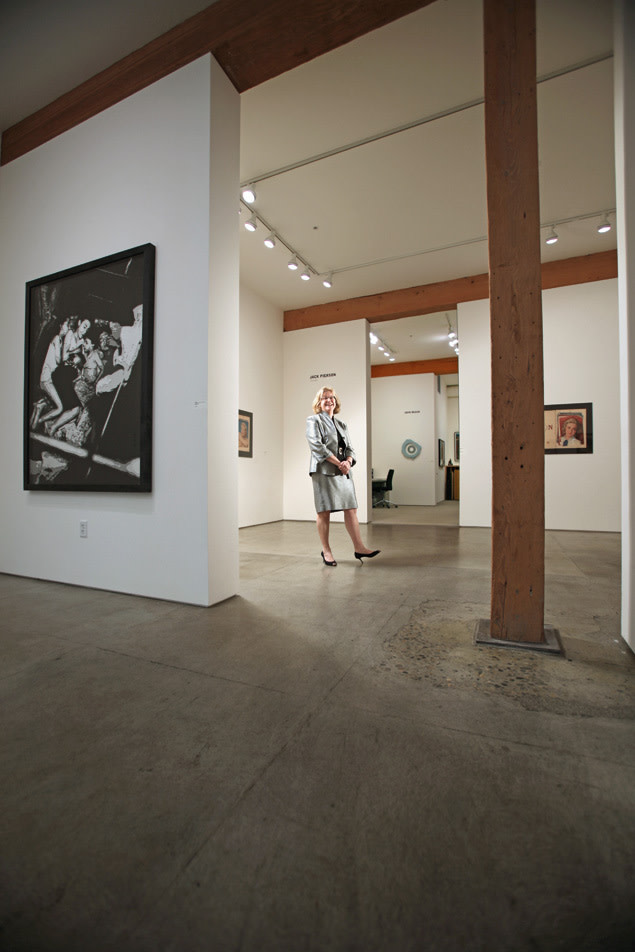 UPON HER PORTLAND ARRIVAL in 1980, a 23-year-old Elizabeth Leach was irked by a question: where's the art? During her short time in Los Angeles, she had married artist and filmmaker Richard Gruetter and rubbed elbows with future LA conceptual art masters like John Baldessari and feminist luminaries like Barbara Haskell. But at that moment in the history of her newly adopted city (and Gruetter's hometown), there were three commercial galleries, none of which exhibited anything more artistically and geographically far-reaching than the occasional Bay Area artist dropped among the locals.
So in August 1981, Leach opened her own space and began importing the artists she loved. By her seventh month, she hung the walls with Europeans like Francesco Clemente, Enzo Cucchi, Hans Haacke, and Americans like Vito Acconci and William T. Wiley. In her third year, she partnered with Mark and Francie Stevenson to fill the Heathman Hotel lobbies with a mix of high-end prints by the likes of Andy Warhol and Wayne Thiebaud and the 150 rooms with original works by 28 locals. By her second decade, she became the city's leading exporter of local art, routinely participating in the major international art expos in Chicago, and later Miami and Cologne. By decade three, she was showing—and selling—million-dollar paintings by the modern master Hans Hofmann, reeling in a canvas by Agnes Martin from the Venice Biennale for a local collector, and helping leverage Portland conceptual artist M. K. Guth into the Whitney Biennial in New York.
To celebrate the start of her fourth decade dealing art, Leach is mounting The Shape of the Problem, a three-part exhibition at her own gallery, Reed College's Cooley Memorial Gallery, and the Pacific Northwest College of Art starting August 4 (details at elizabethleach.com). In the following pages, we offer a look at 30 artworks and deals that map Leach's global artistic reach.