Mudroom
Get Versed
Portland's freshest poets take center stage at the city's most entertaining reading series.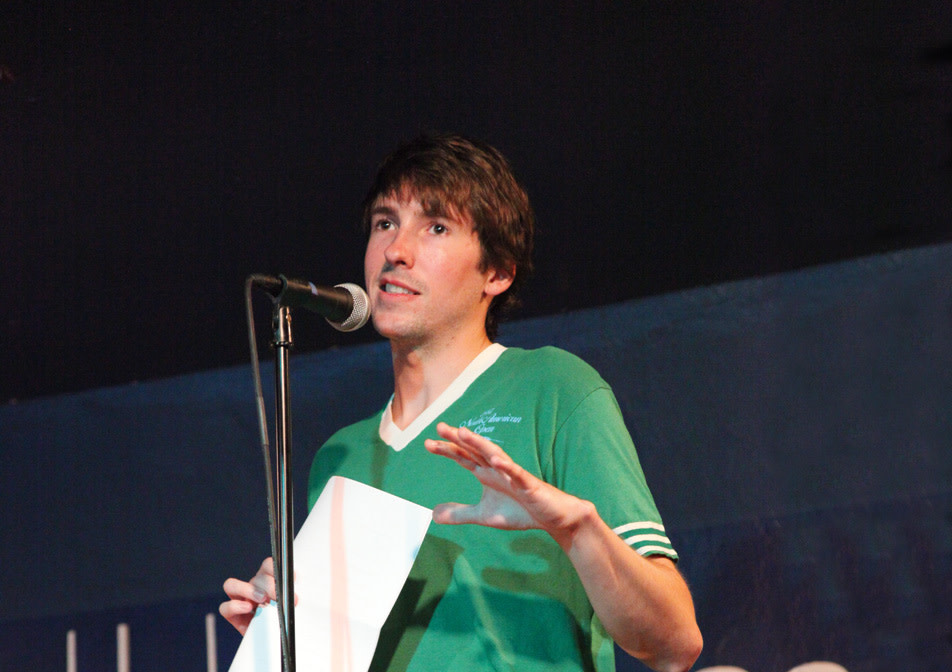 FORGET BONGOS, TURTLENECKS, and pseudo-streetwise theatrics. Portland's live poetry scene has come a long way from both candlelit beatnik clichés and '90s slam poetry show-offs. These three cutting-edge reading series offer vivid chances to explore the city's verse, with atmospheres richer in beer and camaraderie than pretension.
Basics The Central Eastside's Switchyard Studios brim with street cred: a loading dock serves as front entrance. But organizers Paul Maziar, Jeremy Okai, and Allison Cobb keep the Switch accessible and lively, combining local and traveling poets with artists and musicians. (The series recently brought in acclaimed Austin poet Hoa Nguyen to read alongside Portland's own Jesse Morse.)
Vibe At the semimonthly Switchyard events, donated kegs and an army of flannel-wearers perched on bachelor-pad furniture set the scene.
Why go? Despite the über-hip setting, the Switch provides a festive entrée into Portland's poetry scene, with rhythm kept by local-famous musicians like Sallie Ford.
Save the date The Switch at Poetry on the Piazza, Director Park. (The series sometimes departs its usual home for events in other parts of town.) Featuring readings by Maziar and Jen Coleman. August 29, 7 pm.
Smalldoggies
Basics Smalldoggies is a literary powerhouse: a combination online magazine, reading series, and small press helmed by local wordsmiths Carrie Seitzinger and Matty Byloos. The reading series mixes poetry and prose, locals and outsiders. June's installment, for example, teamed Portland writer Chris Leslie-Hynan with local poet James Gendron and Austin novelist Amelia Gray.
Vibe After hopping around Southeast, this monthly series landed at the Blue Monk on Belmont (above), where dimly lit tables and cabaret chairs lead to a stage swathed in a soft blue.
Why go? It's the perfect, cocktail-friendly Tuesday-night escape; in the words of Byloos, the nearly-anything-goes spirit "leaves the audience feeling that Smalldoggies is the wild card" in the local literary scene.
Save the date Elizabeth J. Colen, Will Gallien, and Rob Gray, with musical guests Drew Grow and the Pastors' Wives. August 9, 8 pm.
Bad Blood
Basics Zachary Schomberg of Octopus Books teams up with Drew Swenhaugen of Poor Claudia press and Joseph Mains to produce Portland's
edgiest poetry reading.
Vibe With Peavey amps stacked on the Work/Sound Gallery's stage and hyped-up crowds, Bad Blood feels more like a rock show than a reading.
Why go? The Bad Blood creators balance their lineups with curatorial care, and entice national talents like Baltimore's Joe Wenderoth to read, with a good time and a rabid audience substituting for payment.
Save the date Karla Kelsey, Ashley Toliver, and others to be announced. August 12, 7:30 pm.