read up
Portland Zine Reader's Guide
Just in time for Zine Symposium, Floating World Comics owner Jason Leivian shares a few favorite titles.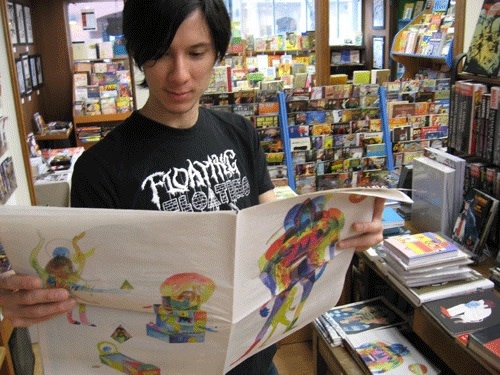 This weekend, Refuge PDX (SE 1st and Yamhill) will host Zine Symposium, a convention for self-publishers and small publishers who produce the old-fashioned kind of hand-held reading devices.
What happens when just anyone can publish their own book or magazine? As you might imagine, many elements slip into the mix. Content that would normally get nixed by a publisher becomes fair game for the printed page: incendiary rants, unauthorized cut-and-pastes of copyrighted content, and a barrage of unedited, indulgent diary confessionals. On the other hand, with little economic incentive and no third-party directives, many zine-makers feel free to create something more wonderful than the market demands. Handmade touches emerge, like letterpress impressions, screen-print, hand-coloring, and crafty binding. Illustrations abound. Still other small publishers, like last summer's Culturephile featuree Brandon Seifert, writer of Witch Doctor, self-publish with one eye on the prize of a mainstream deal. They bring slick, shelf-ready books to the zine scene.
The choices are daunting, but luckily, small press aficianado and Floating World Comics owner Jason Leivian showed us some titles, and we've summarized their content below. Fair warning: young Jason admits he has slightly deviant taste. "I don't really like 'safe' stuff," he says. So…read at your own risk.
ANTHOLOGIES
Papercutter
Each issue features three graphic artists; different every time.
Read time: 30mins | $4
Stumptown Underground
More than 20 contributors per issue, and each has a featured theme—like "Pedal Power," "Slumber Party," and "Ego."
Read time: 40mins | $5
GRAPHIC

NOVELS
Invincible Summer
This title is sold in two thick-bound collections of what were originally shorter individual zines by Nicole Georges. A pen-and-ink rendering of Georges in twee granny glasses narrates coffeeshop culture with High Fidelity-style list-making, casual diary storytelling, and plenty of adorably irrelevant drawings of cute animals.
Read time: 2hrs | $12-14
Capacity
With scaled and feathered monsters and boundary-blurring odysseys, Theo Ellsworth's dense black-and-white work evokes Sendak's Where The Wild Things Are. It might take some time to interpret some of the bizarre images in this hefty hardbound tome.
Read time: 2.5 hrs | $20
Clutch
A master of his efficient, un-shaded style, Greg Means is able to communicate plenty—both verbally and graphically—in just a few lines. Flat-mouthed protagonists bemoan life's minor scrapes (brought on by bike crashes and other accidents) with casual profanity and sparse, sardonic dialogue.
Read time: 30mins | $2
Anya's Ghost
Rendered in rounded lines and muted hues, this coming-of-age ghost story is a recent release from Vera Brosgol, who's currently helping storyboard local film company LAIKA's latest feature, Paranorman. Though his bias for girl ghost fiction begs a grain of salt, Neil Gaiman has called this book "a masterpiece."
Read time: 40mins | $20
QUICKIES
XOX
Jesse Mcmanus unleashes a barrage of nonverbal Ren & Stimpy-esque drawings that emote, explode, and unravel while onomatopoeias zap and zoom overhead. Floating World will publish his next title. 15mins | $3
Round Room Funnies Ian Sundahl infuses his one-panel comics with obtuse humor that usually has a sexual thrust. 5mins | $2
Tigard Force For Amriel Simpson, a ride on a Tigard Transit bus quickly melts into a paranoid funhouse hallucination. "So weird but so good," says Leivian. 5mins | $0.60
Feedback John Isaacson moshes around the underground concert scene and reports his findings: "X"-eyed puking punk-rockers, house shows being stymied by cop calls and leaky basement pipes, and absurd overheard crowd comments. 10mins | $2
Peach Dreams Karissa Sakamoto's take on Little Red Riding Hood is not nearly as sweet as it sounds, revealing toilet terrors ala South Park's Mr. Hanky. "I think we'll see more from her," Leivian predicts. 5mins | $2
Too Dark To See A dark, scribbly specter intrudes on a young cohabitating couple in Julia Gfrörer's short story. Is it a ghost, a demon, an ex girlfriend—or all three? 10mins | $5
Miami, You've Got Style! Whether or not he's serious, Joshua Chapman pays detailed tribute to the Golden Girls' many mumus, peignoirs, and cardigans in this hardbound captioned picture-book. 0-2hrs | $10
For more about Portland arts events, visit PoMo's Arts & Entertainment Calendar, stream content with an RSS feed, or sign up for our weekly On The Town Newsletter!