Mudroom
Five Questions For…Craig Thompson
The Portland graphic novelist releases Habibi, the long-awaited follow-up to his acclaimed book Blankets.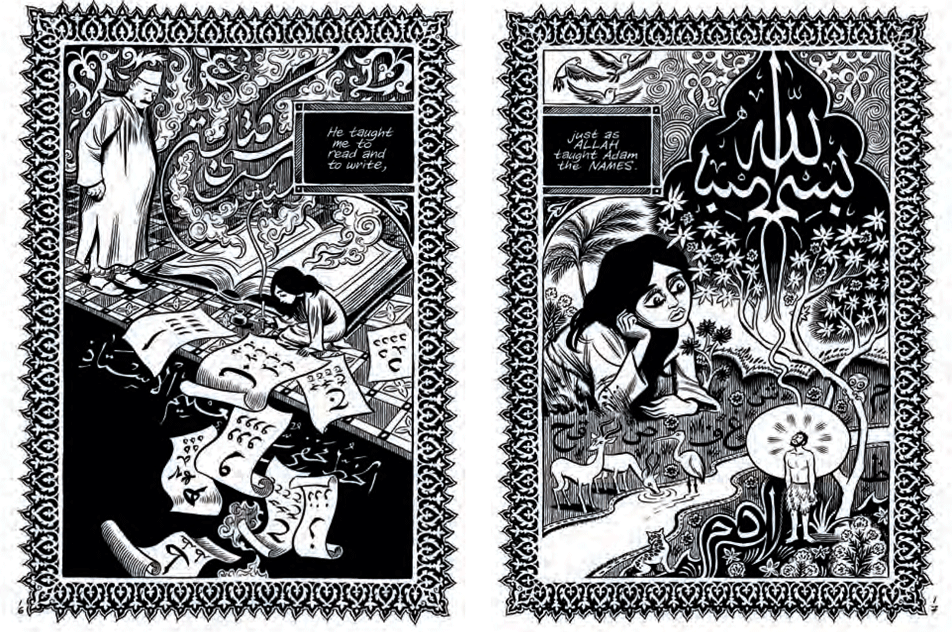 Habibi took you six years to write and draw. What's it about? Habibi is an apocalyptic love story between a prostitute and a eunuch, set in a self-consciously idealized version of an Oriental landscape. I was inspired a lot by Arabian Nights, so it's deserts and harems and camels, but also an ugly blend of industrial clutter, pollution, and modern-day political and water conflicts.
Quite a departure from Blankets' autobiographical setting in wintry Michigan and Wisconsin. Why tell an Arabian fairy tale? I wanted to do a project that was bigger than myself. And after 9/11, seeing Islam vilified in the media, I wanted to seek out the tradition's beautiful elements. I was inspired by Arabic calligraphy, architecture, poetry, and the Koran, and excited about the similarities and connections between Christianity, Judaism, and Islam.
Yes, your narrative interweaves stories of prophets from the Koran and the Bible—including Muhammad. Six years ago, a Danish newspaper sparked a global crisis with cartoons depicting the Prophet. Will Habibi lead to our first hometown fatwa? I wanted to tell the story of the Prophet's ascension through the levels of heaven—a very beautiful and fantastical story. But I knew I needed to be delicate and reverent. Drawing from Persian miniatures, I cloak his face, so it's just an abstract representation of Muhammad—it's not a blasphemous attempt to draw him. Obviously my intention is not to insult anyone.
At 665 pages, Habibi is about as long as a holy book. The story line is complex, and the art is highly detailed. What was your process? I never know the endings of the books when I'm working on them. I spent a year on the first rough draft and couldn't figure out the ending. Then I spent another year on the second rough draft, and still couldn't decipher the ending. Four years later, I was approaching the last chapters, and I still was clueless where it needed to go. I was seeing a therapist at the time. He said, "Why can't you give the characters what they need? You've found it in your own life, why not give it to them?" I went home and wrote out the ending that actually worked.
What was the missing ingredient? It sounds super cheesy: love. I began the book at the end of a painful relationship, and then struggled for years to learn how to be in a relationship again. And initially I was being a very cruel and vengeful god to the characters. The characters in the book are separated for 300 pages, and the point where they are reunited is the point where my girlfriend and I met. It took me the entire process of the book to learn to be in a relationship again, and so somehow the two processes informed each other: me figuring out what I wanted in my own life, and allowing the characters to have that for themselves.