Out and About
October Orchids and the Essence of Tea
As the leaves begin to fall, Portland's Lan Su Chinese Garden spotlights the beauty of orchids and the healing properties of tea.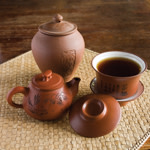 Just in time to warm our bodies and raise our spirits, Portland's Lan Su Chinese Garden hosts a celebration of tea and orchids. The "tea party" exploring the "Essence of Tea" is a month-long affair ensuring that October isn't only about the football season, baseball's World Series, and figuring out what costume you'll wear on the last day of the month.
Super Sunday will be October 9, with the focus on orchids: the Oregon Orchid Society will be in the house with lectures and demonstrations of how to pot orchids to grow in your home all year. The written characters for the Lan Su garden's Chinese name, "Lan Su Yuan" (my keyboard seems to be missing those keys) also mean the "garden of awakening orchids."
It seems appropriate that we can celebrate orchids awakening in October, when leaves fall and we are reminded of the cycle of life. Orchids add a delicate beauty to a home's interior, especially in the lower light and grayer days to come. Plus, those inexpensive orchids I fall for at Trader Joe's never seem to last once they start hanging out in my house; I'm looking forward to learning from an Orchidian what I'm doing wrong.
The Essence of Tea celebration stretching through October will include many other chances to look, learn and taste. Dr. Heiner Fruhauf, the founder of the Chinese Classical Chinese Medicine program at Portland's National College of Naturopathic Medicine, will head up a lecture series (Thursdays 3-4 pm) to help us "decipher the ancients' observations of nature to create health and healing."
Virtual (yet flavorful) tea-tasting trips to China will be on offer two Thursday evenings, October 6 and October 20. That's when the founder of Portland's Tao of Tea, Veerinder Chawla, will share stories and photos of his Spring trips to two famous tea-growing regions in China. One trip was to the center of Oolong tea production and appreciation for centuries (the Northern Guandong Province), the other to the "birthplace of tea" in a Southern China province sharing its border with Burma, Laos, and Vietnam. The appropriate teas to taste will also be provided.
Don't forget, the Lan Su Chinese Garden is open late (6-8 pm) and for free admission on First Thursdays, which this month means October 6. A lovely night to forget your laundry list and contemplate life as the sun sets in the garden, I imagine.