Article
TBA 2011: Andrew Dinwiddie
Five Questions with Brian Rogers, artistic director of the Chocolate Factory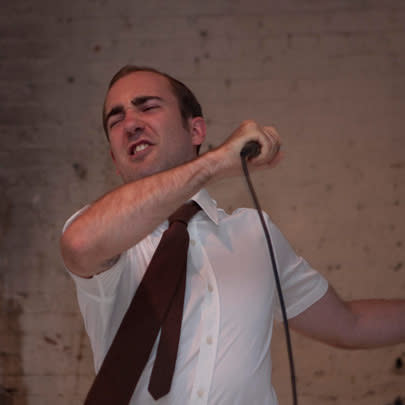 First came the record, courtesy of Jimmy Swaggart, circa 1971. And then came the theatrical reinvention, in 2010, courtesy of the creator and performer Andrew Dinwiddie: directed by Jeff Larson, "Get Mad at Sin!" was a sold-out hit when it debuted at the fabulous New York theater the Chocolate Factory last year. It deserved a longer life than the typical measly run given to new work. And now it has one.
Hooray to TBA for bringing it here. And hooray to Brian Rogers, the artistic director of the Chocolate Factory, for supporting the premiere run of "Get Mad." Brian was gracious enough to answer a few questions about the show, his theater and the broader arts scene:
Can you talk a bit about the experience of seeing this show at the Chocolate Factory?
This will sound really cheesy, but the Chocolate Factory show reminded me of certain old Russian folks like Vakhtangov and Meyerhold—artists whose work I read about in college but (obviously) never got to see. Jeff & Andrew do not specifically reference that tradition (I have no idea if they are even familiar with those guys) but there is, for me, a really strong link in terms of the incongruous but totally compelling combination of sort of high concept theatricality (pink carpet!) and a really focused verisimilitude in the performance itself. Watching the show, you're never not aware that it's a performance with a capital P, but even so, at a certain point you start to really listen to & almost believe what he (Swaggart) is saying. A kind of conversion starts to happen, which—considering how offensive some of the material sounds to contemporary ears—is sort of magical.
Andrew is influenced by a really specific dance and theater tradition in New York—do you see the echoes of artists like David Neumann and Annie-B Parson in his work? How do they manifest?
Well there's a great tradition in downtown experimental theater of a certain kind of tour de force wrangling with a text or piece of material. And Big Dance has definitely done a lot of work in that vein; so I guess you could draw a strong connection there. Also, the ability to step in and out of the material….But Andrew's show is much much more than a technical tour de force—there's something about it that feels incredibly sincere, which I think sets it somewhat apart…
Your theater has such a marvelously specific energy to it. What is the experience like of seeing pieces that have been made for your space in other theaters? I'm thinking it must be something like seeing the movie after reading the book…
Yeah I'm really biased in this regard. I mean, I'm really proud & happy that a few works that started here are getting opportunities to tour; but I always develop an inflated kind of sentimental attachment that makes it hard for me watch in a different setting. That said, one of the things I love about my job is that I get to watch artists fight with and respond to our very particular architecture; so it's kind of fun to watch that process continue in a different space.
Here's a really big and vague and irritating topic: trends in contemporary performance … what are your thoughts on any fashions or patterns you're seeing today, and how does "Get Mad at Sin!" fit in (or not)?
I do think that old is new again. And Andrew's piece definitely comes out of an affection for the old vinyl record and what I take to be a kind of romanticization of the 60s & 70s. He also paid a lot of attention to the social aspect of experiencing the show. These are maybe not trends in performance so much as they are trends in the culture at large….you know, the speakeasy cocktail craze, hipstamatic—the fetishization of the pre-digital.
Catch, the series that Andrew and Jeff curate, is coming to Portland—what should audiences expect?
Something fun and all over the place and remarkably unpretentious. And a very short video from yours truly.
For more about Portland arts events, visit PoMo's Arts & Entertainment Calendar, stream content with an RSS feed, or sign up for our weekly On The Town Newsletter!