too many 'toons man
5 Questions for Too Much Coffee Man's Shannon Wheeler
The almost unbelievably prolific cartoonist talks shop about his 5 titles.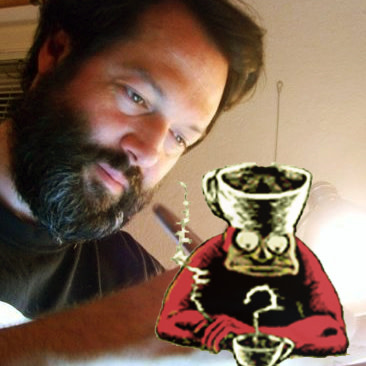 Too Much Coffee Man is probably the "Portland-est" comicbook character there is: Perpetually underdressed and prodigiously overcaffeinated, he splashes through puddles staging wordplay battles and withstanding countless bouts of neurotic, unrequited love. Coffee Man's creator Shannon Wheeler has recently added one more TMCM title, Omnibus, to the 12-high pile, incorporating a forward by punk provocateur Henry Rollins*—but that's not all. In the current calendar year alone, Wheeler's work has been published in 5—that's right, 5—different books. If everyone who drank too much coffee were this productive, just think what a wonderful world it would be!
Culturephile catches up with the unstoppable Wheeler for five questions on the eve of his upcoming One-One-One-One show at PCPA, which will show off and sell off one-hundred-and-one of his one-panel cartoons from The New Yorker's cutting room floor. He'll also be on-hand at a First Thursday reception to address whatever we don't cover here—which, with five titles, should be plenty.
Tell us about each of the titles you're currently promoting, and the upcoming talk:
I have 5 books coming out now; Too Much Coffee Man: The Omnibus, Oil and Water, Grandpa Won't Wake Up, God Is Disappointed In You, and a second printing of I Thought You Would Be Funnier. It's just weird timing that they all came out together. What's weirder is how different each project is. The Omnibus is a collection of cartoons and comics going back 20 years. Oil is a serious graphic novel written by Steve Duin about the BP oil spill. Grandpa is a kids' book that isn't really for kids, written by Simon Max Hill. Disappointed is a condensed retelling of the Bible by Mark Russell. And Funnier is a collection of New Yorker-type gag cartoons. I imagine that the First Thursday talk will focus on the Oil and Water book, because the idea of using comic books (or graphic novels) as a tool for social justice really interests me. Overall, it's the avenue I've explored the least.
In Omnibus, you seem to obsess a lot about the actual process of making comics. Would you characterize yourself as a "comicbook artist's comicbook artist," and how does the mainstream reader relate to this facet of your work?
Most people say that a particular part of the comic relates to something specific in their own life. If people have made comics, they tell me about their drawing/staple/distribution adventures. People also love talking to me about their coffee drinking habits. Lately I've heard a lot of stories about magazine subscriptions to the New Yorker. The mainstream reader…usually it's the coffee they relate to.
Besides "God Is Disappointed In You," how would you summarize the overarching themes of the Bible?
Besides disappointment? That's tough. There's a lot of "why you should dedicate yourself to this or that way of living." Fear is a big motivator. Ecclesiastes is my personal favorite, even though it's a relatively small part. It's an odd bit of philosophy that feels like optimistic existentialism. I could relate.
What's your favorite Bible story and why?
Hosea made me laugh. A guy with a slut for a wife and a town that mocks him. He'd say that he loves his cheating wife because God loves mankind even though they cheat on him. My cartoon is Hosea explaining that he loves his wife because she makes a great metaphor.
What inspired Oil and Water?
A group of Portland folk when to the Gulf to see the damage from the BP oil spill, but there wasn't much oil to be seen. BP had erased the obvious evidence of the spill with chemicals and beach cleaning. But talking to scientists, environmentalists, fishermen, bar owners, politicians, musicians, et cetera, we found that the damage was profound. Fishermen couldn't fish, plants were dying, scientists didn't know what the effects were, and tourism was crippled. In addition to the environmental damage, there was damage to people's lives that is profound. We very much wanted to tell the human story.


*In his own book Get in The Van, this legendary straight-edge loner recalls going to diners and ordering not a cup, but an entire pot of coffee for himself. A man after TMCM's own racing heart.


You can catch Wheeler at PCPA at 6pm on Thursday, or view his work at the gallery through December.For more about Portland arts events, visit PoMo's Arts & Entertainment Calendar, stream content with an RSS feed, or sign up for our weekly On The Town Newsletter!