the wet sprocket
Edward Pack Davee's NW Filmmaker Faves
It's hard to make movies under gray skies. OAC's sole Oregon Media Fellowship grant-winner drums up excitement for this year's Northwest Filmmakers' Festival, and support for his fellow indie filmmakers' uphill climb. by Edw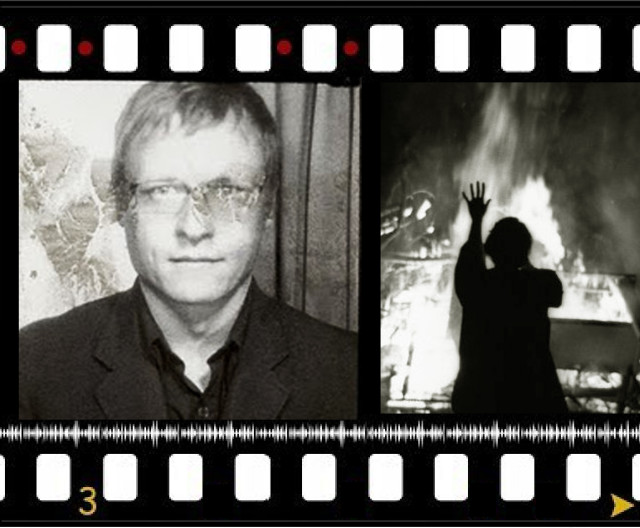 Editor's note: The Oregon Arts Commission has just awarded Davee $15,000 toward his next feature film, but this piece was originally posted mid last week, before the fest began and before Pack Davee's win was announced. Davee's first feature-length "cult" film, How The Fire Fell, is among this year's festival offerings. Though the fest continues through the 17th, some titles Davee references below may have already finished screening.
Sometime in the early 90s, when I was very young, I made my first "big" film project. I was determined to do everything the old fashioned way, from splicing the work print, conforming the negatives, and syncing up reels of magnetic audio tape. I stuck with it and in the end had an actual film print of a 12 minute, 16mm film, complete with dissolves, fades, and an optical audio track. It was not quite a feature, but it was a huge undertaking for me at the time.
The next step for just about any filmmaker is to submit to some festivals. I did just that, feeling fully confident that I would be accepted. I sent 3 screeners to 3 different festivals and was rejected by all of them. (At the time, I didn't understand the nature of festival programming and took it very personally.) To add insult to injury, I attended one of the festivals and was surprised that they chose to show a very famous, established director's home video of his cat doing something cute, when they could have shown my film. Feeling discouraged, I regressed to tinkering around with visual ideas, not really finishing much for actual screening purposes, and I didn't submit anything else to a filmfest for a very long time.
Now, I know full well that festival rejections are a way of life for filmmakers, and that it was silly for me to be so discouraged. It's not uncommon for a film to get rejected by more than 20 festivals before being accepted into just one. It's part of the process. It's not a great system by any means, but for the time being, there aren't many other options. The cost of submitting to most festivals is pretty high, and submitting to several of them can quickly sink a struggling filmmaker much deeper into that terrible hole of credit debt. Luckily, that's where more localized festivals like NWFilm Center's NW Filmmakers' Festival can be a huge help. There's no entry fee, and it offers filmmakers a chance to be shown on their own turf, get some attention for their hard work, and hopefully make some like-minded new friends in the process.
I must confess that, so far, I have only seen one of the other films featured in the upcoming NW Filmmakers' Festival lineup. I should also note that, even as I send out an endless stream of obnoxious reminders and event invites on Facebook, desperately trying to get people to see my own work, I have not been returning the favor to others. It's not that I don't want to, it's just that filmmaking turns you into somewhat of a self-consumed monster. It zaps energy from your system. It traumatizes you. It degrades and humiliates you, taking you to some very low places that are not always easy to pull yourself back out of. But it's important in these self-consumed times, to step back and consider all the others who have gone through the same struggles and endured the same hardships to get work completed and exhibited. All of the filmmakers featured in the festival (and many of those who didn't make it) deserve an audience for their hard work. I intend to check out as many films as I can to make up for lost time.
The NW Filmmakers' Festival features a wide variety of different genres, formats, and styles of filmmaking. My initial reaction is that I'm very impressed with the number of quality documentaries coming out of the Northwest. How to Die in Oregon promises to be very touching and technically excellent. Various environmentally-themed works are piquing my interest, especially Queen of the Sun, which explores the world of bees, their mysterious disappearances, and what it means for the future of the world. If you enjoy crime mystery docs like I do, Confluence should be good for a thrill. And if you have infinite patience (as I do)* for long, drawn-out sequences of pastoral landscapes and rural lifestyles, Alain LeTourneau and Pam Minty's Empty Quarter is a beautiful tribute to a part of Oregon that has little in common with ours here in the big city.
*Editor's Note: Edward Pack Davee's film How The Fire Fell is also resplendent with rural Oregon landscapes. Read Portland Monthly's review.
In the feature-length narrative dept, there seem to be some very strong entries, each of which undoubtedly took years off the lives of their filmmakers. Narrative filmmaking is a tough business. I, for one, want to give these filmmakers a pat on the back and some encouraging words—they need it!
Lastly, I'm exited to see some of the site-specific works and multi-media pieces presented here. As with any exhibition of various short works, you can expect to see a few that just don't connect with you. But stick around, and the next one just might blow you away! Like a buffet, these shorts programs offer a little something for everyone.
I can't stress enough how important these screenings are to the filmmakers. Please give them all a nice round of applause after each screening. As you watch these films, think about the incredible amount of time and effort that went into each one of them. And even if you do not like everything about a film, try to consider what the cast and crew went through to get there.
Lastly: A shoutout to those whose films did not make it in. There but by the grace of a lucky break go I. I have no doubt that some very talented young filmmakers hit the cutting-room floor this year; let's hope that they don't become discouraged. To them I say, the name of the game is persistence. Festival rejections don't mean anything. A film can be rejected by dozens of festivals yet go on to find great success and a huge audience. It happens all the time. In the meantime, a little support and encouragement goes a long way.
For more about Portland arts events, visit PoMo's Arts & Entertainment Calendar, stream content with an RSS feed, or sign up for our weekly On The Town Newsletter!