an upnote
Oregon Symphony's In The Black
The Symphony releases a new recording and encouraging financial news.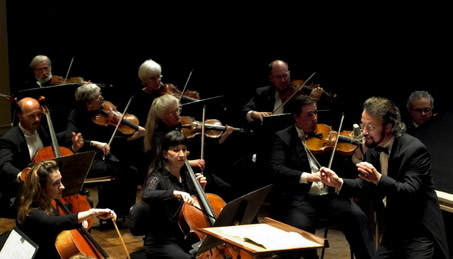 The Oregon Symphony's Board of Directors approved audited financial statements for the year ending June 30, 2011 which show that the season produced a net surplus of $192,000. The financial results mirrored the artistic accomplishments of the 2010/11 season, the eighth under the musical direction of Carlos Kalmar. As President Elaine Calder noted, "The Oregon Symphony finished its 115th season with both an artistic and a financial surplus. It was an extraordinary year and one that feels like a real turning point. For the second year in a row revenues have exceeded expenses, despite the additional cost of taking the orchestra to New York's Spring for Music festival and making a recording of Carnegie program." The program, Music for a Time of War , which included Ives' The Unanswered Question, Adams' The Wound Dresser, Britten's Sinfonia da Requiem and Vaughan Williams' Symphony No. 4, was recorded on the PentaTone label and released last week.
The 2010/11 season, director Carlos Kalmar's eighth, included a variety of work: Prangcharoen's Phenomenon, Bolcom's Violin Concerto, Sibelius' The Oceanides, and Dalbavie's Color were premiered, and balanced with audience favorites like Beethoven's Eroica and Pastoral symphonies, Rachmaninoff's 3rd Piano Concerto, and Tchaikovsky's Violin Concerto. The lineup of international guest artists included cellist Yo-Yo Ma (returning for the first time in 12 years), pianist Lang Lang, and violinists Hilary Hahn and James Ehnes, both making long overdue Portland debuts.
These artistic highlights drove financial numbers that were extremely encouraging, especially during these challenging economic times. Ticket revenue of $5.7 million was up 5% over the previous year with a 6% increase in the number of tickets sold (130,530). Contributed income of $7.4 million was down slightly year over year by 5%, attributable primarily to the effects of the recession on endowment returns and fewer bequests. Combined revenue of $14,089,554 and expenses of $13,897,386 yielded an annual surplus of $192,168. This surplus marks the second consecutive season that the Symphony has posted positive year-end financial results.
For more about Portland arts events, visit PoMo's Arts & Entertainment Calendar, stream content with an RSS feed, or sign up for our weekly On The Town Newsletter!