Culturephile
Stage Cure
Modern troubadour Holcombe Waller finds catharsis in a new multimedia production.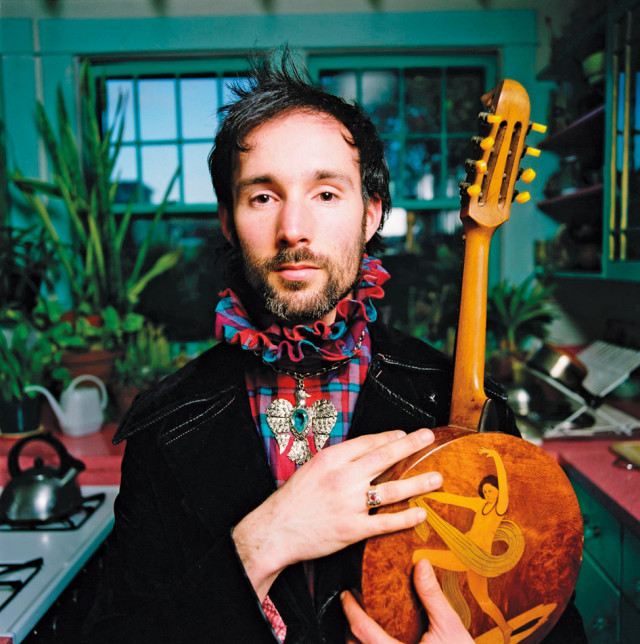 A COMMUNIST, a performance artist, and Patch Adams walk into a bar. Or, rather, a New York apartment. The punch line? It's forever lost in a haze of excited conversation, laughter, and pot smoke. But for local singer-songwriter Holcombe Waller, that chance gathering turned into a revelation.
Last January, Waller was one year into creating an interdisciplinary show that had become a convoluted mess when the performance artist Penny Arcade took him to a small get-together at the apartment of Judith Malina, the octogenarian cofounder of the Living Theatre, America's oldest experimental performance group. They swapped stories into the night with, among others, the health care rabble-rouser Patch Adams. Entranced with the company and conversation, Waller scrapped his story line and decided to tell his new friends' tales instead, including Malina's story about the pending sainthood of the anarchist communist Dorothy Day. The only question: how do you make a song with the refrain "beautiful peaceful anarchist communist revolution" even vaguely appealing?
It's not such an unthinkable challenge if you have Waller's voice—a tenor of such palpable emotion and vulnerability that it can transform even the most cumbersome dactylic lyric or painful experience into a thing of beauty, like some philosopher's stone of the heart. Bubbling under this musical alchemy is Waller's own evolution from a dark depression to stable hope—a relatively recent journey that set the stage for his new show, Surfacing, which opens December 2 at BodyVox.
In the six years he has called Portland home, Waller has evolved from a gifted singer-songwriter with a small regional following into an interdisciplinary artist who blends folk concert, musical theater, performance art, and video installation into a genre-bending cocktail that makes arts-curator types swoon and that is quickly gaining international attention. "Holcombe's a consummate artist," says Lane Czaplinski, artistic director of Seattle contemporary arts organization On the Boards, which commissioned an early version of Surfacing. "He's hard to define. He's obviously known as a singer-songwriter, but he also has a heightened visual sensibility and is taking a total approach to making theater."
A native of Palo Alto, California, Waller moved to town in 2005 just in time to release his third album, Troubled Times, a raw, introspective collection of songs lamenting a post-9/11 loss of reason and meaning on both a personal and national front (thus songs like a tongue-in-cheek entreaty to Condoleezza Rice to mend the broken right wing). The depression he was battling at the time suffused the album with melancholy and minor keys.
Then in 2006, catharsis came in a kit of clown makeup. Struggling with a difficult breakup, Waller produced a show at Holocene called Patty Heart Townes (based on the songs of Patty Griffin and Townes Van Zandt) about a businessman who loses everything, drinks himself to death, and becomes a clown-angel singing songs of regret. But it was the format—not the content—that set Waller on a path to healing. Influenced by the local drag troupe Sissyboy's use of video projections, he incorporated a string trio, costumes, and full-wall projections of spinning worlds and storms.

"Once I let myself fully go to a theatrical place with it, it felt like I had been performing with one hand tied behind my back the whole time," says Waller. "Like, why had I not been doing this?"
The piece led him to a network of contemporary performing arts centers. In 2008, with commissions from the Portland Institute for Contemporary Art, On the Boards, and New York's Under the Radar, he followed up with Into the Dark Unknown: The Hope Chest, a multimedia show that explored the theatrical tropes of a folk concert, with Waller playing a fictional version of himself. "It was the concert that he should have if he was doing stadiums," says Mark Russell, artistic director of Under the Radar and former curator of PICA's Time-Based Art Festival. "There's a set, a stage design, and things are much more textured. He put that together for himself, and it was beautiful."
"Holcombe is a 21st-Century nomad who's on a journey and has a constellation of friends around the globe." —Lane Czaplinski
Waller spent the next two years taking Into the Dark Unknown around the country and crafting its music into an album of the same name—a meditation on depression, aging, and loneliness. But this time, glimmers of light began to appear in his music, even as he crooned about going back on antidepressants and watching his friends marry and settle while he remained single, shining through in brief moments of upbeat Wurlitzer, intimate shakers, and exhalting lyrics. The album closes with the refrain "hey, hey, hey, I'm alright." This newfound optimism, Waller explains, resulted in part from the encouragement he received from the performing arts world that he had never found in the music industry. But his budding relationship with boyfriend Blake Bennett also swept away the romantic angst (even if the existential angst remains in spades). Waller's signature melancholy, ache, and emotional turmoil are still there—but now they're imbued with an ephemeral, electric vitality.
Since then, Waller's career has mirrored the upward trajectory of his inner life. At Austin's annual South by Southwest in March, he and his manager, Alicia Rose, orchestrated two "bed-in" concerts for 40 fans in her hotel room that the New York Times and NPR lauded for their ingenuity. Within a week, he attracted a national distributor and booking agent, which in turn led to performing some 70 concerts between April and July, far more than in any past year. Then in August, Starbucks made his song "Hardliners" the Pick of the Week, giving away more than 100,000 downloads across North America and causing a spike in record sales.
In Surfacing, Waller plays Patch Adams, Penny Arcade, and Judith Malina's grandson, Tameron (whose father helped start the Rainbow Gathering counterculture movement) in a trio of lilting song-stories set to electronic music and interspersed with live musicians and multiple projections that seek to move the audience beyond the confines of the stage. He previewed Tameron's story at Seattle's NW New Works Festival over the summer, and despite his reworking it up to the moment he walked onstage, the audience was spellbound, says Czaplinski.
With the emotional turbulence of his life settling, lately Waller is gravitating ever more to themes of social justice. He sees Adams, Arcade, and Tameron as narrative vehicles for political change. "These are the kinds of stories everybody needs to hear, and I felt like music and singing is a great way to introduce people to far-out ideas that they would never entertain," he says. "If you make the song lilting and pretty enough, the phrase 'beautiful peaceful anarchist communist revolution' can really take on great appeal."
Perhaps it seems naive to sing of communist utopias in an era of corporate selfishness and Tea Party politics, but Waller is well versed in working his way through darkness, and ultimately his music has always expressed the triumph in toil. In Surfacing, Waller isn't playing the sad, pining clown found in his earlier works, Rose says. "It's about going up for air and appreciating the beauty."
"Surfacing" performs Dec 2-3 at BodyVox Theater
1201 NW 17th Avenue (at Northrup)
Tickets online at https://www.brownpapertickets.com/event/207493
Or by phone at 1-800-838-3006