Desirables
Seasonal Countdowns
Exquisitely rendered illustrations of winter's bounty offer solace 'til Solstice. They're also great gift-giving ideas.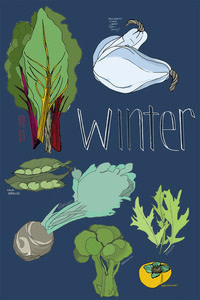 I'm probably not the only one who can't believe it's "the holidays" already. I haven't even adapted to the time change yet, let alone gotten ready for all the parties, gift-giving and home entertaining this time of year brings. But Wolfie & the Sneak, a quirky little mom and pop (plus a young'un) company in North Carolina, are gently pulling me along. They offer hand-made goods suited to the spirit of Thanksgiving and beyond.
After all, holiday season is also countdown time: countdown to the big December 25 holiday, but also to that most important date, the winter solstice on December 22. That's when the days will start getting longer again, thus it's a day of happiness and hope on my calendar. Still, a daily reminder that even wintry cold days aren't all bleak or meager would be helpful. Wolfie & the Sneak's handmade prints of seasonal vegetables provide just that.
The company offers inexpensive handmade prints on archival paper and in a range of sizes. The delicate line drawings depict wholesome, homey subjects – from fruits and vegetables to fungi and pods (no, not i-Pods) – with a lovely graphic touch that also educates with its accurate detail. Artist Renee Garner's illustrations are expressive but not impressionistic – her "Pods" poster, for example, really shows you what various sorts of pods look like.
The Wolfie & the Sneak line of goods began, appropriately enough, with the "Pods" drawing, the first in their albeit short series of "modern, botanical identification posters." The seasonal veggies series also shares their easy-to-relate-to love of nature. From asparagus to Walla Walla onions, persimmons to pomegranates, ostrich fern fiddleheads to fava beans, the bounty of the four seasons is captured in separate posters or as a full year composite. It's a bit like having the beauties you take home from the farmers' market recorded as a gorgeous color sketches.
Their delightful prints and other home goods are available at their storefront online. Each poster is archival quality, available in 3 sizes: 8 1/2 × 11, 13 × 19, and 17 × 22, at $20, $30 and $45.Tilde (in Sellwood) also carries some of their products.