Now Read This
Blue Thread
By Ruth Tenzer Feldman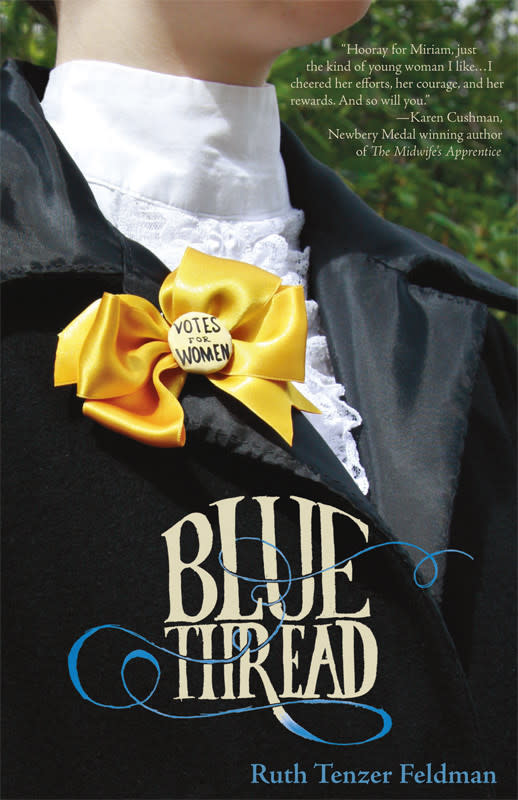 IN OUR AGE of progressive politics, it's easy to forget that Oregon was the last state on the West Coast to give women the right to vote. Ruth Tenzer Feldman's young-adult novel Blue Thread unflinchingly resurrects a very different Portland, when suffragists were mounting their sixth and final campaign in 1912. Equal parts historical and fantastical, Feldman's tale brings Stumptown of yore sparkling back to life.
The story follows 16-year-old Miriam Josefsohn, whose dreams of typesetting at her father's printing shop on SW Stark conflict with her upper-class Jewish parents' plans to marry her off. When Miriam engages her father in conversations about printing, he advises her to "leave such matters to me, or you get worry lines on your face." And though Miriam delights in the way the word businesswomen "rolled around in her mouth," her mother scorns the very concept. "Businesswomen? I'd call them spinsters."
Meanwhile, the plot takes fantastical detours through the book of Exodus, where Miriam's biblical ancestors are busy freeing themselves from the yoke of the Egyptians. The example of the biblical Daughters of Zelophehad—the first female landowners in the Bible who gained property on their own rather than through marriage—inspires Miriam to further defiance and resistance, even in the face of seemingly insurmountable social forces. As the narrative deftly weaves past and present together, Miriam begins to spend more time with Portland's suffragists and becomes increasingly adamant about defining her own path through life, ultimately pushing her way into the print shop, defying her parents by becoming a suffragist, and eventually escaping her repressive fate.
Just in time for this month's centennial celebrations of Oregon women gaining the vote, Blue Thread is not just a story about the past, but a call to renewed action—a reminder that even though the suffrage movement succeeded, struggles for personal liberation continue. "Suppose I was my own perfect messenger," Miriam asks herself. "What would I tell myself? What would I do now?"