Mudroom
Five Questions with… Radiolab
Jad Abumrad and Robert Krulwich bring their hit public radio program Radiolab to the stage.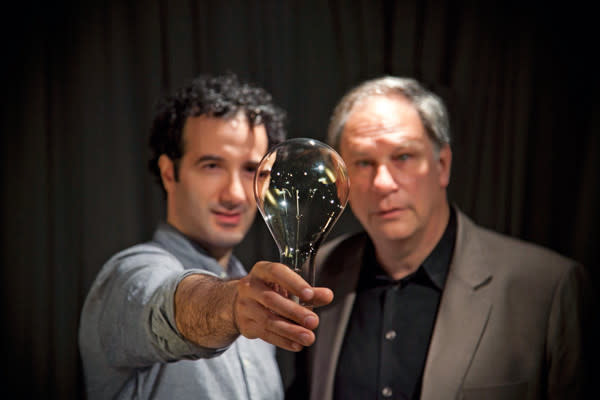 Radiolab wanders through science, philosophy, and the human experience. Fans are rabid, and the MacArthur Foundation gave you, Jad, a "genius grant." Why mess with success by taking to the stage?
Robert: This stayed small for a long time. When you go into an auditorium, it's not small anymore. I keep looking out of the corner of my eye to make sure Jad's there.
Jad: A funny thing happens right before we go on, when we're standing in semidarkness. It feels like the very beginnings of Radiolab again. We're two free-floating particles going out together against the universe.
So how will this show be different than listening to OPB?
Jad: In the past, our live shows have always been a derivative of the broadcast show. Like, come sit in a live theater and watch us mime the act of making radio. This is a different beast. We created it for the stage.
Robert: It will involve a comedian, a live score, and a team of dancers. We're going to take you on three adventures with musical breaks and funny stuff. It's a variety show.
By way of disclosure, I've contributed to Radiolab. But when I went to a live show in Seattle last year, even I was shocked by how rowdy the audience was. Every time you mentioned Neil deGrasse Tyson, the astrophysicist, the crowd erupted as if Justin Bieber had walked onstage. Is this nerd-stardom weird?
Jad: The first five years of the show, I felt largely ignored. It's like walking on the moon when someone tells you they love it.
Robert: If I told you, I have a great idea: let's have two guys on the radio, talking about biology, chemistry, and physics, you'd say that sounds like a terrible idea. It's a miracle that there's an appetite for the show.
Radiolab's Pacific Northwest stories involve transgender mayors, serial killers, or sperm. Is that all we are to you?
Robert: That's all you've ever been. I remember sitting around talking about the Pacific Northwest with Jad and saying, "Let's think of three things, and then we're done with that part of the world."
Portland seems like Radiolab's sweet spot. What's your impression?
Jad: I did a singles event there, and bumped into the people who so fit the Radiolab audience. Portland feels like some sort of weird utopia, which is also troubling, in a way.
Radiolab goes live onstage at the Keller Auditorium on April 28.