Article
Interview: Portland2012 Biennial Curator Prudence Roberts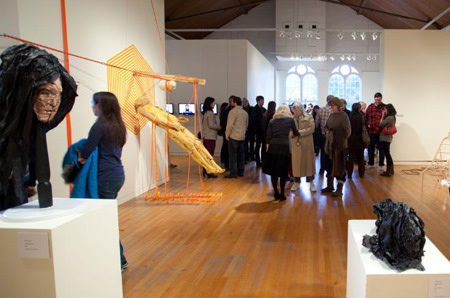 Disjecta's Portland2012: A Biennial of Contemporary Art is kicking into high gear. Exhibitions have already opened at The Art Gym, PDX Across the Hall, and Helzer Art Gallery at PCC Rock Creek, and the opening reception for the biggest show is this Saturday at Disjecta from 6–10pm.
To wrap our head around one of the biggest art events of the year (or two year, as the case may be), we caught up with the biennial's curator, Prudence Roberts. Now a professor at PCC Rock Creek, Roberts was curator of American art at the Portland Art Museum from 1987-2000 and part of the team that resuscitated the Oregon Biennial at the museum in 1992 after a long dormancy. Now, she's returning to the curatorial hot seat to steer Disjecta's second go at surveying Portland's rich arts landscape.
Take us through the curatorial process for Portland2012.
There were close to 300 submissions. I did about 50 studio visits and narrowed it down to 24 artists and artist groups. I didn't go in with a thematic agenda at all. I've been here 25 years, and Portland has changed a lot, and a lot faster in the last 10 years. I've been out of the loop for a couple of years, because my husband died three years ago and I stopped going out. I felt like I was not necessarily an outsider, but there were so many artists who I was unaware of, and I wasn't part of a hip scene. I think it gave me a certain objectivity that I wouldn't have had otherwise.
What were you looking for in the artists you selected?
I'm always looking for work that has the potential to stand the test of time—that isn't following an art world trend of now. I'm not looking for the wow factor, but a sense of integrity. But also, work that is responding to now and isn't backward looking.
Ultimately, when I was making the final selection, I was looking for a range. I didn't want an all video show or all painting. I was trying to represent the range of things happening in Portland.
There're five different exhibitions, ranging in size from one artist to nine artists and groups. What was your thinking behind how you curated the individual exhibitions, and can you give us a preview of the Disjecta show?
I think each show is a discreet exhibition with a certain scene and works that speak to one another. At The Art Gym, I think there is definite a sense of narrative, but interrupted narrative—stories that are told obliquely, incompletely, and not necessarily personal narratives. The Future Death Toll piece is kind of about mortality, and Chris Knight's paintings have all these symbols and references so you start to read and are taken off on a sidetrack.
Then at Disjecta, let me start with Mack McFarland, because he sets stage for me. He's done two videos that are mounted inside a small box. The viewer gets on a stool and wheels into the box. The video monitors are mounted on either side, so you look straight ahead and see both out of peripheral vision. It's this notion of what peripheral vision is and the implications of the periphery, for me, that ties a lot of that work together at Disjecta. The images in the videos are pretty abstract colors and profiles. He's drawing on a chart of colors developed by a eugenics theoretician about skin tones and things. The thesis is race is always in the periphery of our conversations. And also the notion of peripheral vision being necessary for survival.
Arnold Kemp is showing photographs of tin foil masks that he makes with abstract openings for the eyes and mouths. The photos themselves are fairly large, and each is framed in a different color of grey. Again there's that notion of color—and I think he's referencing skin tones—and the notion of looking and of periphery. Then Matt McCormick's piece is a video project, but the LCD projector is mounted into a corner, so part of the moving image is seen as a square projection on one wall, and then as it moves onto the other wall, it progresses as though it's disappearing because of the angle of projection. It's distorted into a triangular projection and seems to flow down into a disappearing hole. And there's an enormous, enormous inflatable piece by Brian Gillis. It's stretching up to the ceiling. Its theme is a float that celebrates failures that turned into successes.
The Biennial's mission is to present "a major survey of visual artists who are defining and advancing the contemporary arts landscape." After looking at the work of nearly 300 Portland artists, how would you describe that landscape?
For one thing, I was really impressed with how much connection there is with other places—how many artists are working here and elsewhere. Ariana Jacob has done a tour for her American Society of Questioning Questions, Matt McCormick just had a film screened at MOMA, Future Death Toll has done performances in New York. All of this dialogue is happening outside of Portland, and I think that changes the scene here. Portland is just a much more connected place than it was in the past. And all of the uses of new media, which I'm still wrapping my head around. The things Future Death Toll does online are really fascinating.
Portlandia likes to reduce our arts scene to putting a bird on it. Certainly there's more to it than that, but did you nonetheless see any noticeable themes or trends among the city's artists.
I didn't. Which I think is a good thing, frankly.
How has the landscape changed since when you were at the museum working on the Oregon Biennial?
When I was at the museum years ago, it was a much more vanilla arts scene than it is now. I would not have seen the work of Sang-ah Choi, who's doing these extraordinary paintings about cultural experiences. I certainly wouldn't have seen the work of artists like Future Death Toll, which is mixing it up and doing performance. I don't think I would've seen the work of Mack McFarland and Ariana Jacob. There was this regional sense about art. Things have really changed.
If there's one thing that's Portland-y or Portlandia right now, it's our emphasis on social practice. I'm not sure if it's going on the same elsewhere, but since Harrell Fletcher [head of PSU's Social Practice Program] got here, that's a force to be reckoned with.
Roberts and a number of artists will give a gallery talk at The Art Gym on Thursday, March 15 at noon. The remaining opening reception takes place on March 31 at the White Box in the University of Oregon in Portland.
For more about Portland arts, visit PoMo's Arts & Entertainment Calendar, stream content with an RSS feed, or sign up for our weekly On The Town Newsletter!