c'est bon!
"Portland Weird" in Paris: Artists Report
New Paris-based festival "Keep Portland Weird" hosted a bunch of Portland artists and reportedly spoiled them rotten. We asked our correspondents: Have we got a new sister city, or is our hometown's hip oeuvre officially "over?
Quoi?
A 10-day festival with events in Metz, Paris, and Nantes, curated by the Centre Pompidou (France's national modern art museum) in partnership with Portland organizers and local commercial rock clubs.
Qui?
Performers included Stephen Malkmus and the Jicks, The Thermals, Helio Sequence, Tara Jane ONeil, Holcombe Waller, Rebecca Gates,Tender Forever, Dragging an Ox Through Water, Au, Brainstorm, Beyondadoubt, Slimkid3 from Pharcyde, Nurses, Sunfoot, Miracles Club, YACHT, and more. Coordinators included Serge Laurent, Delphine Legatt, and Geraldine Celli at the Pompidou Centres; Benoit Rousseau at the Gaite Lyrique; Kristan Kennedy from Portland Institute for Contemporary Art; Department of Kick Ass Filmmaker Vanessa Renwick; and Melanie Valera of Tender Forever.
Oú?
In Metz, venues included Trinitaires (a former convent), and the Metz Pompidou. In Paris, it was the Centre Pompidou (more about that distinction is explained below by Holcombe). Most of the rest of the week-long fest took place under the watchful eye of PICA fine arts curator Kristan Kennedy at Paris's Gaité-Lyrique, a former opera house.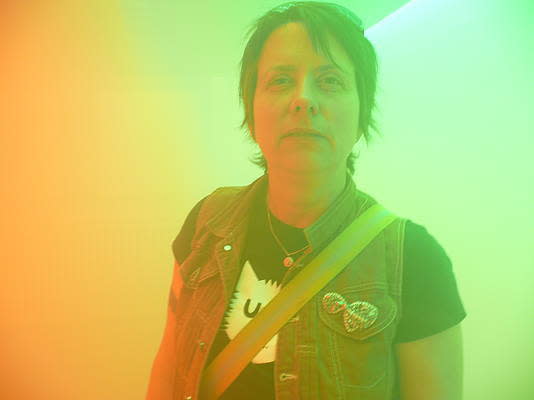 Vanessa Renwick, Oregon Department of Kick Ass:
I presented 6 shows, 4 of my own work, and 2 of other Portland filmmakers that I curated. Twice, at the Centre Pompidou-Metz and the Centre Pompidou Paris, Tara Jane ONiel played live to two of my films, Portrait #1 Cascadia Terminal and Medusa Smack. The projection and sound quality was the best I ever had. The French especially ate up Michael Hurley, Tara Jane ONeil,The Lovers, Tender Forever, Mirah, SunFoot, Dragging An Ox Through Water, and the newly formed Cascadia Ensemble, a group comprised of Tara Jane ONeil, Rachel Blumberg, Melanie Valera, Brian Mumford, STS and Danny Sasaki. Erick Isaacson from Mississippi Records was there DJing and selling records, really completing the Portland feel.
We all felt so grateful to be there together sharing our work with the French audiences! Even the French curators commented on how they noticed that, for such a large group of people, they were surprised at how much we cared for each other and really liked to be together. We all have a lot of respect for what each other are doing, and they really liked what we had to offer.
However, a few times I did hear French people say, "This isn't weird."
Vanessa has a screening of her films Charismatic Megafauna and Mighty Tacoma at The Hollywood Theatre on May 27th, the closing night of the brand new Experimental Film Festival.
Slimkid3 of The Pharcyde:
I was approached by Rousseau Benoit to talk about what Portland is all about, what makes Portland weird or special. The festival setup was very nice, with an amazing stage and sound system. There were plenty different types in the audience, including some Slimkid3 (Pharycde) fans. They were ready to dance the night away nonstop. Since I couldn't bring Tony Ozier and some of the Doo Doo funk AllStars crew to represent the Funk of Portland, I had songs in my Solo set that were made by Tony so they could catch wind of the classic sound. Rev Shines and I also gave them a taste of our Portland- based dance party, Live And Direct, and that went over really well.
The only other act I was able to catch was Life Savas; it was my first time seeing them perform and they really came with it—great beats and conscious lyrics. They held it down for Portland. Other than that, we had a packed schedule in the streets of Paris and then in Berlin, shooting videos for my new album and for my current single, produced by DJ NuMark of Jurassic 5. Overall, I was just happy to see a city that stands out like Paris give props to Portland. I'm such a fan of Paris and its obscure art and open, nothing-to-prove, nothing-to-hide culture. But it makes me shake my head that they would wanna highlight Portland for being weird. We seem to share some major creative freedoms that are so complementary.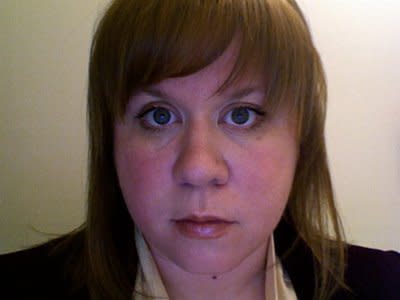 Kristan Kennedy of

PICA

:
I made my home base, Gaite Lyrique, a multi-media museum where the night I curated in

PICA

's name was to be held. The

KPW

Festival took over the second floor, which is comprised of a large concert venue, a sort of interstitial space where they had merch, a bagel bar (still trying to figure out how that was related to Portland), and picnic tables a la portland food carts for people to hang out. Travel Portland representatives were ladying the merch. In the adjacent room, there was a second bar held in the only remaining part of the historic building. It was as grand as could be and was littered with Parisian hipsters sipping beers and Indian tonics. The first thing I saw upon arrival was SunFoot in sound check, which warmed my heart. Every night there were several bands on the bill, people would flow in and out of rooms in a constant loop. (Picture a night at the works, only sweatier.)
It felt a little like some strange class field trip, with representatives from every pocket of music-making in Portland present. Many high fives and "super cool's" were exchanged, and there were two rabid German fans who'd driven seven hours to see The Thermals play. During Tara Jane ONeil's set, a radical Italian artist whispered in my ear, "This is what Paris needs now!" Most nights were packed and those that weren't still held intimate crowds with rapt attention! I am a cynic about most things, but this event was downright charming. Gaite Lyrique and the Pompidou were very gracious to all of the artists and curators, true gems of hosts. It is sad to leave.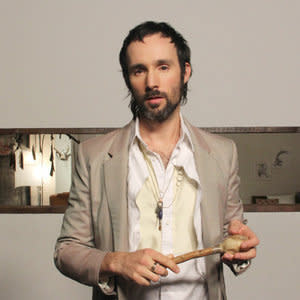 Holcombe Waller, of Holcombe Waller and the Healers:
I'll say point-blank: performing for the French government is essentially the height of all technical and hospitality experiences in my life as a performer. The Pompidou Metz is kind of like Guggenheim Bilbao: destination architecture designed to spread the wealth of the Pompidou's massive collection of art outside of the cultural center of Paris. The massive Pompidou building in Paris was kind of like Metz on repeat – and on steroids. Over at Gaité-Lyrique, the Portland Travel Board had an ingenious flyer that featured pop-out paper moustaches that many a giggling Parisienne girl was wearing. In all the venues, the crew of perhaps 12 people attending to us were all delightful, friendly and ultra-professional, and every single aspect of our rider and stage-plot was perfectly prepared to every detail. The hospitality was crazy.
When we first started playing, our audience seemed very quiet. Realizing that they mostly didn't understand a word I said in English, I broke out in Franglais (my dad's French) and things got instantly more amusing, since my French is a disaster.
I heard I got name-checked by the Pompidou's Paris curator of performance, Serge Laurent, during an afternoon talk with PICA's Kristin Kennedy and others. Serge mentioned that the whole idea of Portland-in-Paris came out of a coffee conversation Serge and I had a couple of years ago in New York. I am officially patting myself on the back. Good job, Holcombe!
I don't think any of this is a harbinger of some kind of "over sell" of Portland. I do think Portland is getting a ton of national and international attention, but it doesn't seem like the quality of life and creativity in Portland is doing anything but improving. I think as long as Portland is the gorgeous, creative, unique American city that it is, it's not going to "sell out" or get "over played."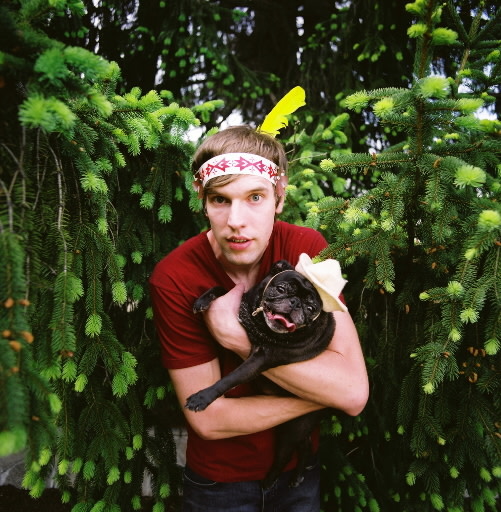 Danny Seim of Menomena:
Do I think "Portland Weird" will go the way of "Seattle Grunge?" Well, I'd say that Grunge was over as soon as the term became an embarrassing genre insult placed on anything with long frizzy hair, a soul patch and a testosterone-laden growl requiring an underbite to properly deliver. You knew it when you heard it, and you especially knew it when you saw it. Grunge was over as soon as every movie or sitcom had a character who wore flannels and chain smoked while nervously tucking his hair behind his ears (looking at you, Jordan Catalano). Grunge wasn't necessarily a terrible thing. It was just an easily identifiable Thing, which made it something easy for pop culture to chew on for awhile before spitting out in favor of the next trend.
I've seen a lot of bands in my twenty years of living in Portland, and the constant seems to be that there is no overwhelmingly obvious constant. The most famous current bands/artists originating from here are the likes of The Dandy Warhols, The Decemberists, Esperanza Spalding, Pink Martini, Blind Pilot and Lifesavas. I can't think of many similarities between any of those, other than the word "Portland" in their bios. This sort of diversity was highlighted at the Keep Portland Weird festival in Metz and Paris. Most refreshingly, it wasn't just all straight white dudes with guitars. The majority of the bands included female people or gay people or non-white people (or female gay non-white people) making all sorts of different sounds.
I guess overall, while I was admittedly a little embarrassed about the festival's name, just as I am a little embarrassed when I see the same bumper sticker on a car over here (in my opinion, the moment you have to force weirdness, you're no longer weird…plus, Austin TX was kept weird long before Portland was), the whole thing made me realize individuality is a hard thing to tangibly export like a flannel. And as long as no one declares diversity "over" anytime soon, I think we'll do okay.
But our absolute favorite report is one done by the French themselves: "Portland: Bizarre, Vous Avez Dit Bizarre?" We particularly love the teleporting Lifesavas, the time-lapse dragon boats, and the gaggle(?) of Segways they somehow found in Portland (when was the last time you saw a Segway? Even Homer Williams traded his in.) Doesn't particularly seem like the French need our help keeping anything weird.
For more about Portland arts, visit PoMo's Arts & Entertainment Calendar, stream content with an RSS feed, sign up for our weekly On The Town Newsletter, or follow us on Twitter @PoMoArt!