It's a Gift
Are You Nuts?
Booze is better when it's covered in fur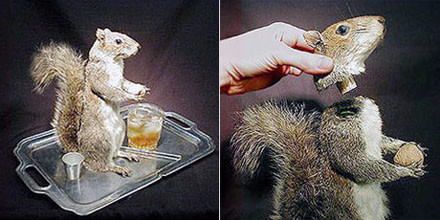 It's always a wonderful day in the neighborhood when I get schwag in the mail from brewers or distillers hoping to curry favor with Portland Monthly. T-shirts, a plastic pineapple cocktail shaker, little colorful monkeys for decorating a dull glass—any of these things can inspire my legendary happy dance, which I'm told is remarkably graceful for a man of my bulk. And to all the corporate gift givers out there? I appreciate the gesture, but my integrity can't be bought for gewgaws and gimcracks.
Until now.
If there's anyone reading this blog who's affiliated with www.customcreaturetaxidermy.com, please send me a squirrel decanter without delay. I'll work the damn thing in someplace, I swear!
See, I just did. Thanks for the tip Garrett!
Have anything on your wish list involving the conversion of furry critters into daringly functional housewares? I want to know.