Drink Locally
Flight Plan
Departure Restaurant + Lounge ready for takeoff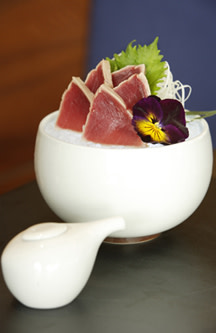 I really dig a bar with a concept; a place where you can see actual ideas at work. Sure, you could throw a blanket over an ironing board and call it a bar. You can even stand behind it and dispense Hamms tallboys and questionable advice from the comfort of your own basement, but it's nothing like wandering into a joint where the average Joe and Jane are transported to some wonderful, otherworldly, elsewhere. Trust me, a whiff of atmosphere helps take some of the sting out of a spendy cocktail.
Speaking of transporting, the hallway leading to the new Departure Restaurant + Lounge on the top floor of the Nines Hotel is eerily similar to The Star Trek Experience, an infuriating attraction I got suckered into in Vegas (which cost the princely sum of $35 for admission, thankyouverymuch). The narrow passage is flanked by funky light panels, reminding us that Star Trek's vision of the future had an adorable go-go quality to it. (Check out the miniskirts on all those foxy ensigns!)
The dark hallway soon gives way to the Jetsons' living room, an ultra-brite lounge that strives (successfully, I might add) for an equally alluring retro-futuristic vibe. Designed by hotshot architect Jeff Kovel, Departure resembles an airport bar from the 1960s, right down to the waitresses decked out in mod flight-attendant gear. And though you're not as high in the sky as the happy hour prowlers over at Portland City Grill, I think the views are better. Prediction: When we're finally graced with a little warm weather, the breathtaking outdoor decks at Departure will be thick with sun-seeking citizens.
The drinks and the cuisine then proceed to yank the rug out from under anyone anticipating swinging '60s staples like Harvey Wallbangers and fondue. Once the menus drop you find yourself at Tokyo International awaiting a flight out as Godzilla's footsteps thunder in the distance. Sake and shochu (a brewed spirit from Japan, similar to vodka) drinks abound, with some half-dozen sake options served either alone or as cocktail ingredients.
I had a Hatori Hanzo (named for the legendary sword-maker in the Kill Bill movies), with Belvedere vodka, sake, cucumber, and a Thai pepper merrily floating on top. It's like a vaguely tropical and piney martini, that requires the most delicate and disciplined of sipping. The A.E. Doyle combines shochu with a rinse of yamazaki (Japanese whiskey) and orange bitters—a floral and fruity rendition of a manhattan.
I didn't have time to dine properly, but the dishes being scooted around by the stew, uh, waitresses looked suitably exotic and intriguing. Dim sum, noodles, tempura, and steamed buns were among the more recognizable passersby. We split some appetizers; the avocado rolls, pork shu mai, and a fusion BLT, consisting of a large lettuce leaf supporting a bacon-wrapped cherry tomato, were masterfully prepared, but the minimalist portions had me searching my Japanese phrasebook for "super-size it."
An excursion to the Departure isn't a bargain. My cocktail, memorable though it was, set me back ten bucks. But it's a sophisticated space and constantly surprising, a fantastic spot to take friends and relations from out of town—especially if their flight's been delayed and they're buying.