R & R
What's My Weekend?
All is not lost if the Blazers don't go the distance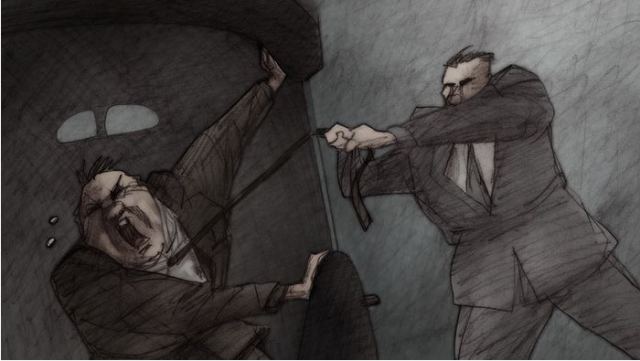 I don't know about you, but my nerves are shot, my back is killing me, and I need about 10 uninterrupted hours of sleep accompanied by my recurring dream in which I lead my old high school football team to the Super Bowl. Yes, you heard me—the Super Bowl.
Speaking of sporting events and dreams, if the Trail Blazers find a way to drop the Rockets tonight, my weekend plans will revolve around Game 7 of the NBA playoffs. Friday night I'll still be celebrating the Game 6 victory, and Saturday afternoon will be dedicated to laying in the necessary supplies for the evening's game. If Safeway is out of malt liquor, pork rinds, and bean dip on Sunday, that will be my handiwork.
If for some reason (Cough! In–the–tank refs working on behalf of the "Big Market" team. Cough!) B-Roy and company are denied a Game 7. There's still plenty to do this weekend … after a respectful period of mourning, of course.
Friday: Any excuse to walk around in a bathrobe is OK by me. KUFO's Cort and Fatboy will be hosting an 11 pm screening of The Big Lebowski at the Bagdad Theater. But the ball starts rolling at Laurelhurst Park around 9, with the Cinco de Lebowski May Day March. Show up in your most fetching robe and take a hike with your fellow Lebowski achievers over to the Bagdad for a pre-function with White Russians (the McMenamins version are referred to as "Dudes") and live music. It doesn't say so, but I'm betting that folks decked out as Maude Lebowski, Walter Sobchek, or Jesus Quintana will be greeted warmly. Me? I'm a nihilist.
[Laurelhurst Park, 9 pm, free admission]
Saturday: Our fearless food blogger Mike Thelin speaks highly of the Portland Indie Wine Festival, a gathering that affords you the golden opportunity to mingle with the region's best winemakers, sample their premium vino, and snack on munchies from Wildwood, Ten 01, Country Cat and more top-flight eateries. [Portland Wine Project, 2–6, $75]
Sunday: Cinephiles in search of a fix would do well to attend each and every session of the Oregon Sesquicentennial Film Festival at Marylhurst University that runs from May 1–10. Sunday at 7, join animation sensation Bill Plymption for a screening of his latest feature, Idiots and Angels (pictured), which includes tunes by Tom Waits and Pink Martini. Say, when is that scintillating combination going to cut an album together? [Marylhurst University, Villa Maria Building, 7 pm, $30]