Article
Rocket Is Closing
Go bid the fresh American food a proper farewell.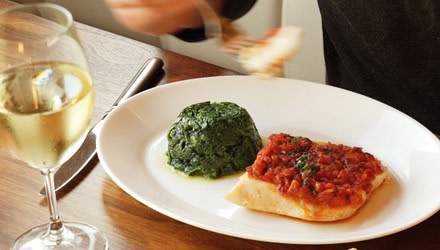 After a couple of lukewarm reviews, including our own, this East Side restaurant pulled itself up by its bootstraps, simplified its menu, and started over again — to excellent effect. This means no more proclamations of a "new cuisine" and no more cryptic menu items. Instead, diners are offered fresh, masterfully executed American cuisine in the same upscale setting with a spectacular fourth-story view. What we can't get enough of: an appetizer of house-made egg noodles topped with parsley, bread crumbs, and a poached farm egg (with a yolk that's a brilliant hue of sunset orange). Although the entrées are straightforward, they pack a lot of flavor: Sautéed trout is served splayed open and topped with tender celery root and a béarnaise sauce, and a lengthy piece of pork belly is glazed with a decadent aged-bourbon-and-cherry sauce, topped with whole cherries, and accompanied by a luscious, deep-fried hush puppy filled with bright green, puréed escarole. As for the signature arugula (known in England as "rocket" salad), we like it just the way it is, which is the way it's always been.
Get directions and more at Find a Restaurant.