Junenews
East Side Eats
More for your late-night cravings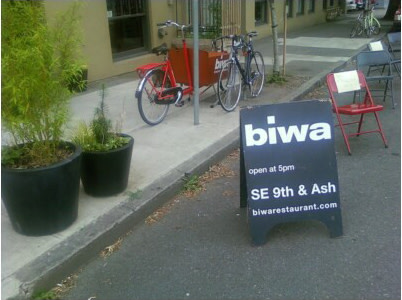 With live-music venues Holocene and the Doug Fir Lounge, the ever-popular RonToms, and the alt-rock flesh parade at Union Jacks, the Lower Burnside and Morrison neighborhood is already one of Portland's night-life epicenters. Now, the burgeoning 'hood's late-night gastronomical options are heating up.
Take Biwa, Gabe Rosen's izakaya-style Japanese pub on SE Ninth Ave and Ash St. Its business appears to be affected very little by the economic downturn (the restaurant was packed on my last two midweek visits), and Biwa is now open until midnight every night of the week. The new hours started on Friday and will continue throughout the longer summer days. Biwa will feature a special late-night izakaya menu.
Just two blocks from Biwa, Beaker and Flask is slated to open around the June 25 pending the approval of Beaker's long-awaited liquor license. Several blocks west, Nate Tilden and Jason Barwikowski, along with several partners, will debut the charcuterie-focused wine bar Olympic Provisions at the Olympic Mill Commerce Center in early fall. (In the interest of full disclosure, I worked on this project briefly while employed by Urban Works Real Estate. I have no stake whatsoever in the success or failure of this restaurant.) There's also Noble Rot's recent relocation to the top floor of the Rocket space, which has the best view of downtown of any restaurant in Portland. Think of it as the East Side version of the Portland City Grill, only with less bling and more interesting wine options.