serratto
Happy Hour of the Week: Serratto
There's no value like value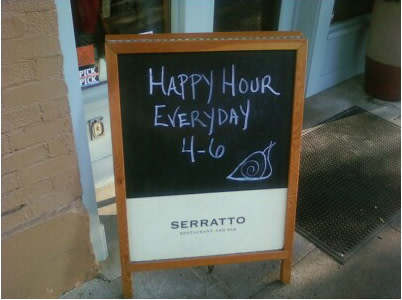 In terms of price, happy hour should feel a little like 1982. The best happy hours should feature high-quality fare at prices that seem out of place in the modern world: one where twelve-dollar burgers and ten-dollar cocktails are the norm. This is why there are few better places to spend your happy hour dollars than Serratto on the corner of NW 21st and Kearney.
This longstanding Mediterranean-themed neighborhood eatery serves up high-quality fare in entree-sized sharable portions every day from four to six for prices so cheap they seem unreal. For six bucks, Serratto's burger is in a class of its own with giant slab of ground beef, Neuske's bacon, thin fried onions, white cheddar, and giant mound of housemade fries. Another four bucks gets you a generously portioned housemade Caesar salad dressed in a perfect balance of anchovy, garlic, and lemon. There's also large wood-fired pizzas, manilla clams and fennel sausage in a sop-worthy garlic brine, and a giant portion of hummus and flatbread for four dollars.
Serratto features happy hour every day of the week. Trust me, you can do no better.
The Menu
Manila clams sautéed with fennel, red peppers and garlic in a sundried tomato white wine broth$6
Hummus, olives & seasonal vegetables, served with grilled flat bread $4
Prawn and scallop ceviche with crackers $8
Crispy fried calamari with lemon-caper remoulade $5
Dry-rubbed, grilled baby back pork ribs with a Spanish smoked paprika potato salad with gaeta olives $6
Hand-cut pommes frites with sea salt, and house dipping sauces $4
French onion soup topped with a seasoned crouton and Gruyère cheese $5
Caesar salad tossed with lemon, garlic, anchovy and egg yolk, topped with croutons and Romano cheese $4
Beet, pear and chevre on organic baby greens with Dijon vinaigrette and crispy garlic $5
Burger with bacon, white cheddar, house bbq sauce and crispy fried onions, with pommes frites $6
Rigatoni with spicy Italian sausage, garlic, tomato, fresh mozzarella and basil $6
Basic cheese pizza $6 Add sausage, pepperoni, or fennel salami $2
Serratto's pizza del giorno, tossed to order and baked in our stone oven $8