voodoo
The Voodoo Burger in the New York Times
Portland's newest downtown diner exports a tiny dose of Portland weird.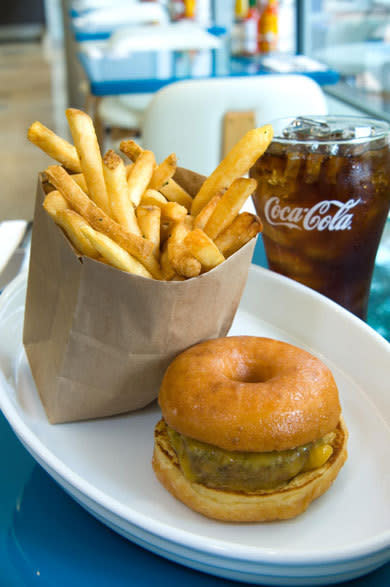 Sometimes in Portland, we take our weirdness for granted. We are indeed a city where midnight bike rides attract 20,000 naked cycling enthusiasts, where our most-renowned amenity is not a sports stadium but a bookstore, and where a local establishment like Voodoo Doughnut can take an innocent piece of fried dough (a doughnut, which is also the Canadian national dish) and fashion it into something dirty and unmentionable.
To us Portlanders, none of this sounds strange. But to the New York Times, which is entering its third straight year of granting PDX enough media attention to by now be considered New York's sixth and westernmost borough, all this quirkiness is the stuff of which great stories are made.
This time around, the newspaper's excellent blog "The Moment" has picked up on newly minted Portland diner The Original's absurd but genius creation, the Voodoo Doughnut Burger. Outlandish simplicity at its finest, the Voodoo burger is a ground-beef patty with cheese sandwiched between two halves of a glazed Voodoo Doughnut.
So is it a marketing gimmick? Is it a hollow antic to garner press? Not according to Times blogger Elizabeth Spiridakis, the writer of the piece. She calls the creation "delicious," and so has everyone I've talked to who's tried it.
I haven't tasted the Original's Voodoo Burger myself, though I've been tempted. That said, the Original has a quite a few interesting selections on its menu. My favorite thus far is its version of the Scotch egg. Sheathed in sausage made of tasso, a smoked Cajun-style pork, it features a soft-boiled egg that's perfectly runny. The bread crumbs appear to be panko, which facilitate light and uniform crunch. Forget what you know about Scotch eggs and Scottish food in general. If something called the Scotch egg didn't already exist and some rogue chef put this reinterpretation on her menu, she'd deserve a medal.