Food News
Portland's Best New Doughnuts
Coco Donuts nails the basics.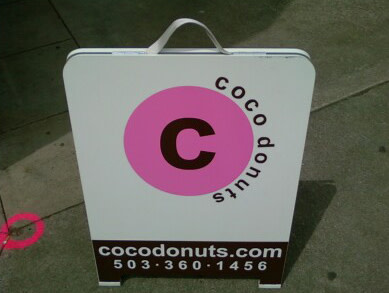 I'm a bit of a purist when it comes to my occasional doughnut. I have no use for sprinkles, and I find powdered sugar to be messy. While maple or chocolate frosting is generally delicious, it's often applied far too liberally for my tastes. And with all due respect to the good folks at Portland's landmark Voodoo Doughnut, sugared breakfast cereal has no place anywhere in my life, especially not atop my doughnut.
I love the basics, and this is precisely why I find Portland's newly minted Coco Donuts to be so refreshing. Anchoring the corner of SW 17th Avenue and Morrison Street, just one block from PGE Park in the former home of the restaurant Lorenzo's Pasta Bella, Coco Donuts nails the fundamentals and serves the best old-fashioned doughnuts I've ever eaten.
In fact, Coco's old-fashioned doughnuts are so flawless, I've yet to try anything else on the menu. The interior of the doughnut is airy and light, the exterior fried to the perfect level of crunch, and the glaze isn't sickeningly sweet. It's perfect harmony, and like everything on the menu, it costs only 80 cents.
The rest of the menu is rather traditional—jelly doughnuts, twists, apple fritters, maple bars, and chocolate—and I'm sure I'll get to the other offerings as soon as I burn out on the excellent old-fashioned, if that's even possible.
Coco serves Stumptown drip, and is conveniently located adjacent to the MAX stop at PGE Park. The folks who work there are very friendly, and the interior looks straight outta Tokyo.