bryant
Market Makers: Bryant Terry
The author of Vegan Soul Kitchen makes a visit to the PSU Market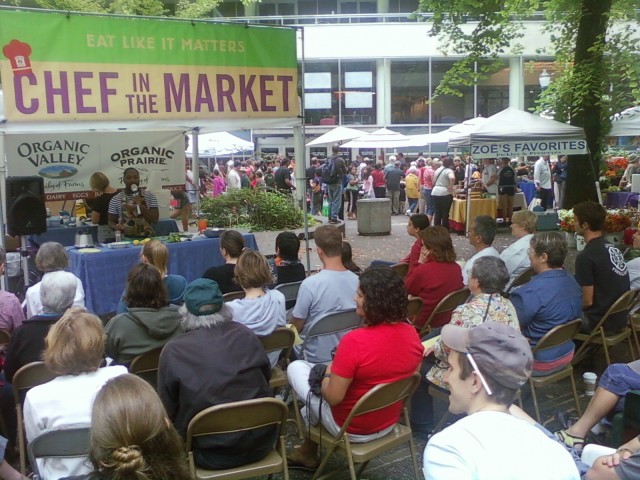 Let me be honest. When I see the word "vegan" inserted into a recipe or book title, I usually run away. For a style of cooking that supporters proclaim (often evangelically) as being the healthiest and most natural way to eat, many vegan dishes rely heavily on reconstituted soy products and other heavily processed foods in order to vainly replicate the flavor and texture of meat. To those of us who are ingredient-obsessed, this is an affront. After all, there are plenty of classic recipes that don't rely on animal products for added flavor; they just don't often find their way into the vegan section of the cookbook aisle.
And therein lies the reason why the recipes of chef Bryant Terry are so refreshing. The Oakland-based cook, food activist, and author of the excellent cookbook Vegan Soul Kitchen takes a more compelling approach to vegan cooking: he simply creates delicious and inspiring food. In most cases, the fact that it all happens to have been made without any animal products feels like an afterthought. In the case of the aforementioned title, his seasonally appropriate, ingredient-focused takes on Southern food are firmly rooted in classic technique, New World history, and a lot of Terry's own creativity and flair. The end result is food that even the most committed meat eaters will love.
This Saturday, Terry prepared his chilled heirloom tomato soup with cucumber salsa and toasted peanuts, a recipe inspired by his colleagues Alice Waters and Peter Berley.
What I like most about this recipe is its simplicity. All you need is an upright blender, good heirloom tomatoes, and minimal time. It's perfect for a summer barbecue. As anyone familiar with Terry's work is aware, he recommends a particular song to be playing during the preparation or consumption of each dish. For this recipe, it's the song "Sea Lion Woman" by Feist. I'll post an interview with Bryant Terry later this week.
Chilled Heirloom Tomato Soup with Cucumber Salsa and Toasted Peanuts
Cucumber Salsa
1 large cucumber, peeled, seeded, and diced
1/2 cup diced red onion
1 clove minced garlic
2 tsp minced fresh basil
2 tbsp freshly squeezed lemon
1/4 tsp coarse sea salt
1/2 tsp paprika
2 tsp extra-virgin olive oil
In a medium-size bowl, combine all the ingredients and stir well. Set aside.
The Soup
3 1/2 lbs heirloom tomatoes cut into 1-inch slices
2 tsp coarse sea salt
1/2 cup toasted peanuts for garnish
In a large bowl, toss the tomatoes with 2 teaspoons of salt to enhance their flavor and help release their juices. Cover and set aside for 30 minutes.
Add the tomatoes to an upright blender and purée until creamy. Strain the liquid into a large bowl, discarding the solids.
To serve, ladle the soup into bowls, and with a slotted spoon, transfer a heaping tablespoon of cucumber salsa to each bowl. Finish off with a heaping tablespoon of toasted peanuts for garnish.