inside look
Chef Gregory Gourdet of Saucebox
The Queens native settles in for talk of winter braises, marathons, and the simple elegance that is Portland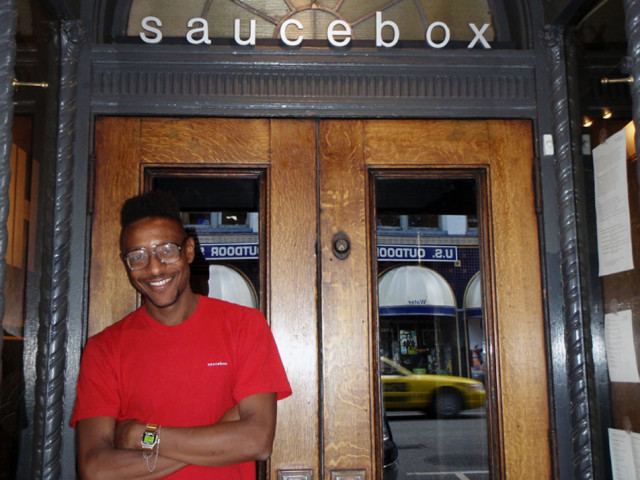 On the surface, Saucebox Executive Chef Gregory Gourdet's all city. He wears these enormous clear-framed glasses – the kind that are "in" right now – but the way he wears them makes you wonder if he's ever thought about it. He shaves his hair into a haphazard Mohawk. He gestures to his street bike locked up right outside.
His belly laugh alone proves that he doesn't take himself too seriously.
Born and raised in Queens, the New York native went to college in Montana, where he studied French.
Gourdet just keeps peeling back the layers.
After college, he landed at the prestigious Culinary Institute of America in Hyde Park, and later, interned with Jean-Georges Vongerichten. From there, he began climbing. Salad station. Pantry. Meat cook. Sous chef. Chef De Cuisine. And eventually, head chef at 66, a former Jean-Georges modern Chinese restaurant.
Two strings yanked him out of New York – the daily grind of city life, and an opportunity to help a friend open a Spanish restaurant in San Diego. But there posed a snag – Cali just wasn't weird enough for Gourdet.
So he chased a job offer to Portland, and ended up as Chef De Cuisine at Urban Farmer in The Nines hotel. He was offered the head chef position at Departure, but turned it down for a more conducive fit at Saucebox.
Gourdet's found a niche here, using the high-end training he received in Jean-Georges' kitchens to blend Asian and modern American flavors in a slightly more relaxed fashion that is, fundamentally, Portland.
Currently, he's just "putting on braises" for the winter. He's perfected a braised pork shank flavored with coconut milk and chilies, and chose to round it out with tangy Swiss chard and a salad of pickled Asian pear, ginger and cilantro.
He's also tacking traditional scallion pancakes to the menu, served straight up with a soy and vinegar sauce.
"Rich, but not too heavy," Gourdet reasons, explaining that catering to the Portland vibe means keeping his dishes streamlined – genuine and simple.
Portland's done more than make Gourdet a master at precision and hound for organic ingredients, the city's reshaped his lifestyle. With cash in-hand, most chefs are notorious for their wild after-hours behavior. But Gourdet's been around that block, and has since chosen a different way of traveling: running.
Around midnight, with the massive doors at Saucebox shut for the night, Gourdet laces up his sneaks and hits the pavement to train for the Seattle Marathon this November. Looks to me like this New Yorker's found a pretty consistent stride here in Portland.