Oats
Portlander Crowned World Porridge Champ
Matt Cox wins over the elusive Scottish palate, but will he win over me?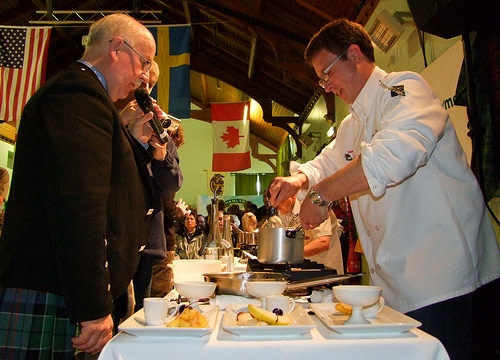 In his excellent book The Man Who Ate Everything, food critic Jeffrey Steingarton made a famous case against food phobes. To paraphrase: If you write about food, you have no business having them. Like Mr. Steingarton, I also try to keep an open mind, but there's one food that I have always found difficult to love: Oatmeal. Because of childhood Sundays, I avoid it.
The reason for my own disdain is an issue of association. My mother is a wonderful cook, but would always prepare oatmeal before church on Sundays. To a boy used to a rather steady and sturdy diet of Syrian-style lamb and Missouri-influenced buttermilk fried chicken, the oatmeal wasn't the problem as much as sitting through two hours of church after eating a mound of oatmeal, which was prepared in a rather prefunctory manner compared with her better dishes. Now an adult, I still adore her fried chicken, but I avoid both church and oatmeal. No childhood is without its casualities.
What does this have to do with Matthew Cox? Everything. Because Matt Cox lives in Portland, I'm going to give oatmeal a second chance.
Cox is a chef who works at Bob's Red Mill cafe, and as a novelty, he enlisted in the 16th Annual Golden Spurtle World Porridge Making Championship in the heartland of gruel: Invernesshire, Scotland. The Scots I'm told, take their porridge very seriously. For an American to enter the contest was something of novelty. So when Cox took first prize for a dish called pear-brandy infused oatmeal creme brulee, he got props from the BBC. Cox has become an oatmeal celebrity.
When he's back in Portland, I'm going to convince Mr. Cox to prepare oatmeal for me. I need to rid myself of my only food bias.