wine tasting
Indie Wine Festival Pre-Thanksgiving Tasting Event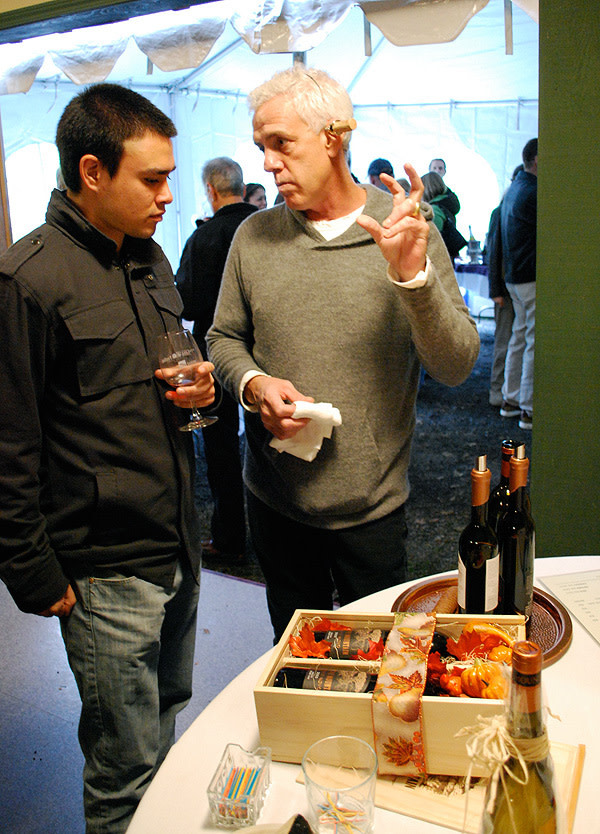 I don't need a giant sign dangling from my neck with "Amateur wine taster" printed in bold. The irresolute slant of my eyebrows says it all. It was laughable, really, when my boyfriend, Marcus (another amateur, might I add) and I stepped between the white flaps of the Indie Wine Festival pre-Thanksgiving Tasting tent, and were instantly poked and prodded by local winemakers like a pack of vultures feasting on their prey.
Kathken Vineyards nabbed us first, asking what we'd like to start the afternoon with. Cue that eyebrow slant. Marcus and I looked at each other, shrugged, and were poured a generous ounce of Syrah. Our eyes lit up. Before long, we had tried Jolie's Juice – a port wine, Pinot Gris, reserve Pinot Noir, and Clarke's Cuvee.
A word of the wise came from a woman seated nearby. "You may want to start spitting soon," she said, gesturing toward Marcus, who was loading a plateful of turkey rolls and cheese from the snack table.
We slowed down a bit after that, partly because the tent, stationed on the front lawn of the picturesque Brookside Inn, was swelling up with people. For the first annual pre-Thanksgiving tasting event, the Indie Wine Festival had invited over ten award-winning Oregon wineries to offer tastes of their acclaimed wines and sell bottles to pair with guests' upcoming holiday menus.
I found the variety of wineries, including J. Scott Cellars, Et Filles, Viento, and more, fitting for a newbie taster like myself. I was particularly fond of the 2007 Pinot Noir from Christopher Bridge, a wine that has four double gold awards under its belt. However, their Muscat – as the woman at the booth was sure to point out – could change a taster's opinion of the sweet, white variety entirely.
Also worth mentioning was Madrone Mountain, a Southern Oregon winery known for their artisanal dessert wines, and favored by local restaurants like Paley's Place and Noble Rot. They poured three different Ports to sip in sequence, a delectably sweet Starthistle Riesling, and offered Madagascan chocolate and Rogue Creamery blue cheese as compliments.
I must admit, part of my affection for Madrone Mountain stemmed from the proprietor, who proudly adorned a 'hat' that made it look like a wine cork and a corkscrew were sticking out either side of his skull. A perfect reminder that wine should never be taken too seriously.