Drinking Locally
Sprint to Spints
New alehouse has the goods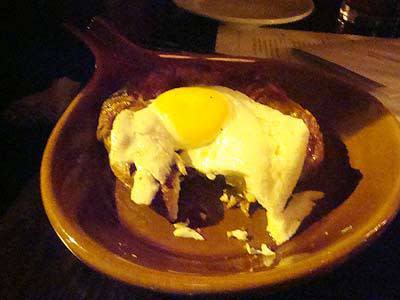 I'm up to my elbows in whiskey at the moment drinking buddies, but I wanted to drop you a quick note about Spints Alehouse, a new bar and eatery at 401 NE 28th Avenue, located in a former leather shop (not to be confused with a leather bar). It's roomy with a hospitable air, done up in dark-wood pub chic, with a lively bar side, and a more intimate dining space. It's the latest venture from chef Alyssa Gregg and manager Ted Charak, both formerly of the Teardrop Lounge.
Went there last week with a few amigos and was impressed with the following:
Speedy and friendly service; superb beer selection, strong on Belgian-style brews like Allagash White Ale, my current fave; a sweet assortment of house-made spirits, like a really eye-opening root beer schnapps that tastes just like Hires' root beer barrel candies; adventurous gastro-pub fare, including a lovely pretzel topped with bacon and a fried egg (pictured).
The last item has the potential to be a culinary cult classic, but it was a bit too salty on first taste. Still, the place has only been open for a few weeks, so I trust this issue will be addressed as soon as the kitchen staff gets a bit more—SEASONING! Damn, I've been cracking myself up all week.