Books for Hungry Minds
Newish Book Great Overview of Contemporary Cuisine
Global gastro compendium of top chefs includes Portland's Tommy Habetz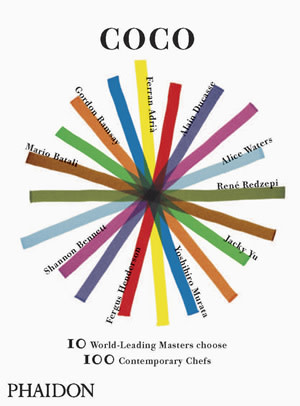 Being a food writer has its perks. On top of many expensed meals (Still the reason I haven't seen my abs since early 2007), I receive quite a few food-related books in the mail every week. While most end up in the Salvation Army donation pile, some find their way to my permanent collection—on the bookshelf alongside favorite authors like Waverly Root, Jeffrey Steingarten, and every cook's best friend Harold McGee. I received one such keeper earlier this winter. It's called COCO: Ten World Leading Masters Choose 100 Contemporary Chefs (Phaidon).
A compendium of Earth's 100 top contemporary chefs, the format of the book goes like this: Ten chef members of the global fooderati each chose their ten favorite contemporary chefs. The Michelin star-studded jury includes "deconstructivist" Ferran Adria of the soon-to-be-shuttered-but-no-one-agrees-for-how-long El Bulli, slow foodie Alice Waters of Chez Panisse, noodle maven David Chang of New York's rising Momofuku empire, New Nordic natural cuisine alchemist Rene Redzepi of Copenhagen's Noma, and the excess-loving Seattle-born New York chef and restaurateur Mario Batali, who owns more restaurants than I can count.
This volume includes mention of Portland hoagie lord Tommy Habetz of Bunk Sandwiches. (This tidbit was first reported by Karen Brooks of the Oregonian back in December.) Being the huge fan of Tommy's work that I am, his inclusion alone would have saved COCO from the Goodwill bins, but that alone isn't why I like it. Thanks to a jury comprised of individuals of many diverse (even disparate) cooking styles, the final roster of chefs and restaurants offers the most entertaining and approachable overview of what's happening in global cuisine that I've seen. By giving an ice cream van, a sandwich shop, and Michelin-starred restaurants all equal treatment, it's refreshingly unpretentious and captures the energy of contemporary cooking. Plus, it contains about 400 recipes. For these reasons, it has occupied front-and-center bedside table real estate for about two months.
Tommy's entry onto the list came thanks to Mario Batali, his mentor and former boss. Batali is renowned for several things: his ten-or-so restaurant projects with restaurateur Joe Bastianich, his proclivity for bright orange Crocs, and his resemblance to my mental stereotype of a Viking.
This book is only $49.95, but is a nice introduction to what's being enjoyed by eaters around the world. And of course, it's nice to see one of our own among the world's best. Bunkity.